AeroVironment is touting a "mini-Predator" configuration of its Jump 20 tactical unmanned air vehicle (UAV), a retrofit allowing the small drone to launch multiple Switchblade 300 loitering munitions.
The UAV manufacturer demonstrated the capability as a "proof of concept" in August at the US Army's Camp Atterbury in southern Indiana using an inert Switchblade 300, Arlington, Virginia-based AeroVironment says on 29 November. The company aims for the system to be available to Jump 20 customers within 12-18 months.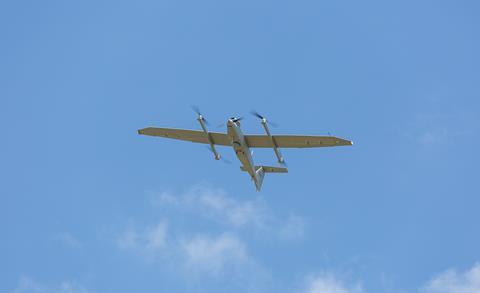 Both Jump 20s and Switchblade 300 are drones, though the Switchblade is much smaller and carries a grenade-sized munition in its nose. The combination would give small tactical ground units ability to conduct air strikes using Switchblade 300s, which are effective at taking out non-armoured targets like troops and light vehicles.
Armed aerial reconnaissance missions are typically conducted by larger UAVs, such as US Army General Atomics Aeronautical Systems MQ-1C Gray Eagles or US Air Force's MQ-9 Reapers – both successors to the MQ-1 Predator. That is why AeroVironment calls its Jump 20-based retrofit a "mini Predator".
"It brings the capability to the tactical level… Sometimes larger [UAVs] are either not available or have limited schedules," says Phil Mahill, AeroVironment senior director of medium unmanned aircraft systems business development, on 29 November. Jump 20s would also be less expensive to operate than MQ-1Cs or MQ-9s, he says.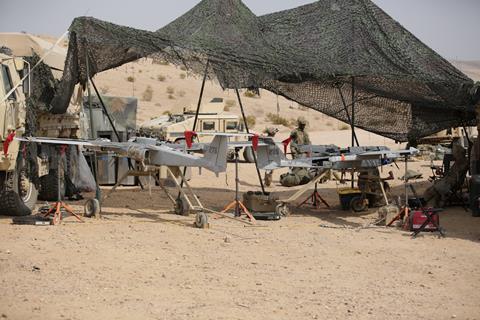 Jump 20s are small, vertical-take-off-landing UAVs used for tactical intelligence, surveillance and reconnaissance missions. They usually carry payloads up to 13.6kg (30lb) – typically electro-optical cameras and communications equipment.
Developed by Arcturus – which AeroVironment acquired in February – Jump 20s are operated by US Special Operations Command (SOCOM). AeroVironment is also pitching the drone as a contestant for the US Army's Future Tactical Unmanned Aircraft System (FTUAS) acquisition competition, an effort to replace the service's Textron RQ-7B Shadow UAVs.
AeroVironment says Jump 20s can be retrofitted to launch two to four Switchblade 300s.
Switchblade 300s are usually launched from a tube, using compressed gas, by ground soldiers. But AeroVironment has been exploring ways to make the drones into "air-launched effects", which are multi-purpose drones used for strikes, reconnaissance or electronic warfare missions that can be deployed from manned helicopters or larger fixed-winged UAVs. When launched from the ground, Switchblade 300s have range of 5.4nm (10km).
In normal configuration, Jump 20s can fly more than 14h and have range of 100nm. Mahill says the UAV's endurance would likely be reduced by a couple hours due to drag caused by carrying Switchblade 300s, though AeroVironment has not tested range with loitering munitions aboard.
There is no military service requirement for launching loitering munitions from tactical UAVs. However, AeroVironment believes SOCOM may be interested and that the US Army could add the capability to its FTUAS programme.
In future demonstrations, AeroVironment aims to test the Jump 20's ability to carry and control multiple Switchblade 300s, says Mahill. The company also plans to develop a single control system to direct both the tactical UAV and its loitering munitions simultaneously. AeroVironment wants Jump 20s to both carry Switchblade 300s and serve as a communications relay – a capability that would enable the loitering munitions to operate far beyond their typical range.
Additionally, as on-board computer processing power improves, AeroVironment envisions developing artificial intelligence software that would allow the Jump 20-Switchblade pairing to automatically identify targets, says Mahill.
Artificial intelligence programmes could also be used for visual-based navigation, a technique for determining an airborne vehicle's position and directing its flight using software that matches camera images or video feeds with a database of terrain images. That could enable Jump 20s or Switchblade 300s to navigate even when enemies are jamming or spoofing GPS signals, says Mahill.