AeroVironment, a manufacturer of small unmanned air vehicles (UAVs), plans to buy Arcturus UAV in a $405 million deal.
The acquisition is intended to expand AeroVironment's portfolio with larger group 2 and group 3 UAVs. Group 2 UAVs are classified as weighing between 9.5kg (21lb) and 24.9kg. Group 3 UAVs are classified as weighing between 25.4kg and 599kg. So far, AeroVironment's products were almost entirely group 1 UAVs, weighing 9.07kg or less.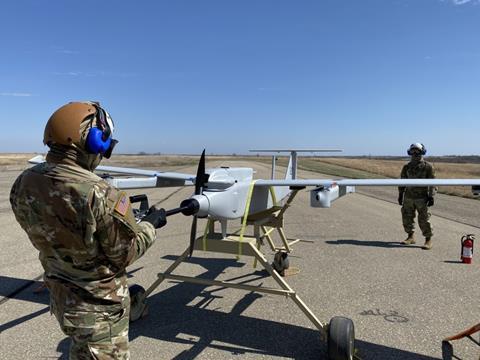 The acquisition also gives AeroVironment an opportunity to get back into the US Army's Future Tactical Unmanned Aircraft System (FTUAS) competition. Arcturus' Jump 20 drone made the cut into the next round of the completion, while AeroVironment's joint bid with Aerovel did not.
"Arcturus UAV is a leading supplier to the US Special Operations Command, supporting its $1.4 billion [Mid-Endurance Unmanned Aircraft System] III and IV programs, and one of four awardees selected for funded development and demonstrations supporting the US Army's FTUAS program, a potential billion dollar, next-generation UAS program," AeroVironment said on 13 January. "Arcturus UAV has a demonstrated track record of solid performance, with topline growth exceeding 20% for each of its last two fiscal years."
Arcturus is a private company that has about 270 employees. In addition to manufacturing UAVs, the company generates revenue by providing contractor-owned, contractor-operated (so-called COCO) UAV services, such as intelligence, surveillance and reconnaissance work.
AeroVironment's deal with Arcturus includes $355 million in cash and $50 million in AeroVironment stock. The company says the transaction was unanimously approved by both firms' board of directors.
To fund the acquisition, AeroVironment says it has received commitments for a $200 million term loan facility and a $100 million revolving credit line with Bank of America. The company plans to use $155 million of cash on hand.