AeroVironment plans to start low-rate production of a larger variant of its Switchblade loitering munition ahead of operational deployment with an unnamed military customer.
The company says the new Switchblade is aimed at the tactical missile market currently occupied by the Lockheed Martin AGM-114 Hellfire, Lockheed/Raytheon Javelin and Raytheon TOW missiles.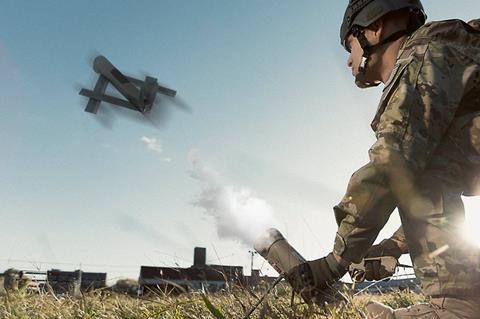 "Our strong momentum last fiscal year developing our largest Switchblade variant continued into this year with a number of successful demonstrations, tests and continued customer support and funding," Wahid Nawabi, chief executive of AeroVironment, said during the company's first quarter fiscal year 2021 earnings call. "As part of this variance maturation, we plan to deliver a number of systems to our customers for operational deployment this fiscal year [ending 30 April 2021]. We are also establishing low-rate, initial production capability consistent with the expectations of our customers."
The company announced in March that it started a flight-test campaign for the larger variant of the Switchblade.
The original Switchblade, which is still in production and operational, was introduced in 2011. The weapon is essentially a drone that is tube-launched, powered by an electric motor-driven push-propeller and carries a grenade-sized munition in its nose. It also carries an optical camera that allows operators to aim it towards soft targets, such as individual soldiers.
The larger Switchblade variant offers a longer range and carries a bigger munition, although AeroVironment has provided no specifics.
"We continue to believe this larger Switchblade variant represents a game changing solution to disrupt a larger segment of the missile market currently dominated by legacy systems such as Hellfire, Javelin and TOW missiles," says Nawabi. "These legacy missiles accounted for more than a $1 billion [in US Department of Defense] procurement funding in government fiscal year 2020."
The Hellfire, Javelin and TOW missiles are all effective against armoured targets, such as tanks. However, the missiles are also used against lightly armoured and unarmoured vehicles, as well as personnel.
AeroVironment has not disclosed the lethality of the larger Switchblade's munition. A larger munition could be useful against targets such as unarmoured vehicles, for which a missile like the Hellfire might be considered overkill or too expensive. An anti-armour warhead for the larger Switchblade is also conceivable. For instance, competitor UVision of Israel claims its Hero-120 loitering munition could be used to destroy a main battle tank by dive bombing on the vehicle's turret, where its armour is thinnest.
For its part, AeroVironment hints that additional variants of the Switchblade are planned.
"The nature of the Switchblade emerging family of systems is scalability. So, if you start with the original Switchblade – small, man-portable, backpack-able, dismounted infantry type of solution – designed for certain kind of soft targets, for example, the larger variant is obviously bigger, can fly longer, farther, carry a larger warhead and deliver much more significant effects on targets," says Steven Gitlin, chief marketing officer and vice-president of investor relations. "And, there are opportunities for different points along that scale, addressing all kinds of different missions that our customers are facing."
Correction: Article changed on 11 September to correctly attribute paragraph about scalability to Steven Gitlin, chief marketing officer of AeroVironment