After months of public teases, AeroVironment has unveiled its Switchblade 600, a loitering munition with a larger, anti-armour warhead.
AeroVironment had previously said such a weapon was under development, but details about its capabilities were lacking. Switchblade 600 is the first in a series of new loitering munitions the unmanned air vehicle (UAV) manufacturer plans to offer, the company said on 30 September.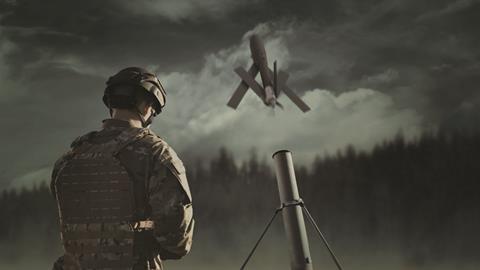 The new loitering munition weighs 22.7kg (50lb), is man-portable and can be set up for deployment from a launch tube in less than 10min. It also can be configured for launch from a vehicle or slow-moving aircraft.
The UAV is powered by an electric battery and propeller. It has endurance to fly 43nm (80km) and make multiple orbits above a target before striking. That equates to about 40min of flight endurance, says AeroVironment. It has a dash speed of 100kt (169km/h).
Like its smaller predecessor, the anti-personnel Switchblade 300, the new loitering munition has a set of four wings that pop out, like a switchblade, after launching from a tube using compressed gas.
The Switchblade 600 has a set of electro-optical/infrared cameras inside a nose-mounted gimbal for navigation, surveillance and targeting. The weapon can lock onto and dive bomb a fixed or moving target. It also can be automatically waved off in case nearby friendly forces or civilians are present. The loitering munition is piloted with a tablet-based fire control system that allows operators to guide the UAV to the target manually or autonomously.
AeroVironment says it eventually plans to offer different versions of the Switchblade 300 and Switchblade 600. Both weapons have modular warheads and electronics which could be swapped out for new mission payloads. For instance, an anti-radiation sensor and warhead package could be added to the loitering munition in order to seek, find and attack radar sites, says Todd Hanning, product line manager of tactical missile systems.
The company believes the range of its Switchblade series should grow as the power density of batteries available on the market increase.
"That is what we think is our magic sauce, our ability to stay on top of the marketplace of different battery technologies, and our battery management and power management, and efficiency of driving electric motors is really at the core of our capabilities for small [UAV] and tactical missile systems," says Brett Hush, senior general manager of product line management for tactical missile systems with AeroVironment. "Quite frankly, if our main competitors were really good at that, instead of good at rocket motors and more traditional missile capabilities, we wouldn't be where we are today."
AeroVironment says it is under contract for the loitering munition for several undisclosed Department of Defense customers. It notes that the product was originally developed for the US Army's Single Multi-Mission Attack Missile programme.
The company says it is proposing the weapon for the US Marine Corps' Organic Precision Fires-Mounted programme, a loitering munition development effort which is expected to conduct a fly-off competition in January 2021 to select a single supplier. As part of that programme, the Switchblade 600 would be also repackaged into a vehicle-mounted multipack launcher.
AeroVironment has been testing the Switchblade 600 for a couple of years. So far, all tests have been ground launches.
"We've been going against fixed and moving targets. We're up to over 60 flights in our test programme," says Hanning. "We'll continue to do that through this next year. And then, eventually, we want to progress into both maritime and the air launch environment as well."
The company sees the loitering munition as a candidate for various air-launched effects programmes. Air-launched effects is a catch-all term for UAVs that are launched from an aircraft and can be used as intelligence, surveillance and reconnaissance drones or as loitering munitions.
"Long term, it could be [placed on] a variety of things," says AeroVironment chief executive Wahid Nawabi. "But at the short term, we think that rotary-wing is the ideal fit for it."
The unmanned variant of the Kaman K-Max, the Northrop Grumman MQ-8C Fire Scout and optionally-manned helicopters would be likely contenders, he adds. The company has not done any work yet on integrating the loitering munition with the US Army's specifications for its Future Attack Reconnaissance Aircraft, however.
Forward-launching the Switchblade from an aircraft would require an airspeed of around 10kt, says Hush. "If you fire it backwards, it could be at a higher [speed]," he says. "And then, there's approaches to restrict excessive wing loads by retarding wing deployment; if you want to launch at a faster speed, then gradually let those wings deploy."
AeroVironment says it wants to use the Switchblade 600 to displace older rocket-powered, anti-armour weapons such as Hellfire, Javelin and TOW missiles. The company notes that those missiles made up about $1 billion in Department of Defense spending in fiscal year 2020.
When asked if the Switchblade 600 would be cheaper than those legacy missiles, Nawabi declines to say, but emphasises its loitering capability and the lack of support infrastructure needed to deploy the weapon.
"We're very aware of the cost structure and the price points of these other missile systems," he says. "Obviously, we're in very early stages of development. We are discussing these price points with our customer. They're very, very competitive and affordable."
The company has started low-rate initial production of the Switchblade 600 and plans to build 200 examples of the weapon within its first-year production run.