AeroVironment has won a $76 million contract to supply an undisclosed quantity of Switchblade loitering munitions to the US Army and US Marine Corps.
The explosive drones are to be delivered to the two services by the end of April 2023, according to a US Department of Defense notice online.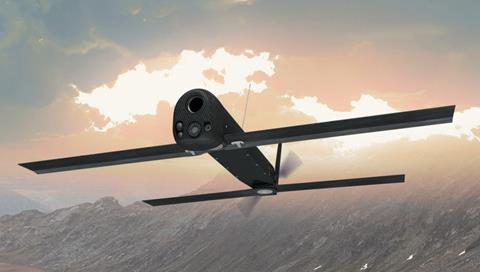 The US government is AeroVironment's sole customer for Switchblade, as the company has struggled to gain approval to sell the weapon overseas.
However, AeroVironment hopes to secure its first export order for Switchblade in 2020 following recently received permission from the US government to sell the weapon to a small subset of NATO-country militaries, one of the firm's executives told FlightGlobal in February 2020.
AeroVironment was one of the first companies to create a man-portable loitering munition. However, because it has been unable to compete internationally, rival loitering munitions manufacturers from Israel, for example, Elbit Systems and Israel Aerospace Industries, have dominated the market outside the USA.
AeroVironment also recently flight tested a larger Switchblade variant capable of carrying a bigger munition and travelling much farther, the firm said in March. The larger munition is co-funded by an undisclosed customer and could be an anti-armour variant of the Switchblade, though the company has released few details.
The standard Switchblade is a critical part of AeroVironment's sales. In fiscal year 2019, the company generated $314 million in revenue, 21% of which came from the loitering munition.