BAE Systems Controls and Avionics Solutions is working on autonomous technology, including an airframe design and subsystem proposals, as part of the US Air Force's (USAF's) Skyborg unmanned air vehicle (UAV) programme.
The company's involvement in the programme was announced in September, but the scope of its work had not been disclosed.
The aerospace manufacturer expects to start the work with the USAF in the first quarter of 2021, it said on 22 October. Via Skyborg, the USAF hopes to field fleets of "attritable" UAVs. The military uses the term attribable to describe low-cost, reusable drones.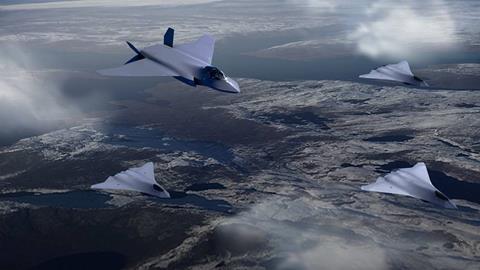 The development work is part of an indefinite-delivery/indefinite-quantity contract issued by the USAF to BAE and 13 other companies. The service has not explained what each company is working on, however. Some design proposals may not be an entire aircraft, but could be complimentary subsystems.
Skyborg is the artificially intelligent flight-control and mission-system hardware and software the USAF wants to control various conceptual loyal-wingman UAVs. The service envisions flying networks of UAVs, controlled by single manned fighters, into combat.
"The network extends the reach of the fleet, while keeping the manned aircraft and personnel out of harm's way," says BAE. "It will allow the UAVs to serve as the eyes and ears for pilots, collecting and sending data from the battle space to a manned fighter."
BAE plans to perform the Skyborg development work at its facility in Endicott, New York.
A digital rendering released by the company shows attritable UAVs flying alongside BAE's proposed Royal Air Force sixth-generation fighter, called Tempest. The UK-government-funded Tempest programme includes loyal wingman UAVs, though BAE says that effort is separate from its USAF contract.
"While we'll undoubtedly draw on expertise and experiences in our wider global business, there is no direct link to Tempest at this time", says BAE.
The rendering also appears to show UAVs with cockpits, but BAE says no such conclusions should be drawn. "The image is an artist rendering to represent the concept of operations," the company says. "We are still in the early stages of development and have not yet determined the design of our attritable air vehicle system."
Other companies developing Skyborg technologies include AeroVironment, Autonodyne, Blue Force Technologies, Boeing, Fregata Systems, General Atomics Aeronautical Systems, Kratos Unmanned Aerial Systems, Lockheed Martin Aeronautics, NextGen Aeronautics, Northrop Grumman, Sierra Technical Services and Wichita State University.