Boeing has flown its MQ-25A test asset (T1) with an aerial refuelling store under its wing for the first time.
The initial flight lasted 2.5h and was conducted by Boeing test pilots operating the unmanned air vehicle from a ground control station at MidAmerica St. Louis Airport in Mascoutah, Illinois. The flight tested the unmanned in-flight refuelling tanker's aerodynamics with the refuelling pod mounted under the wing, the company says.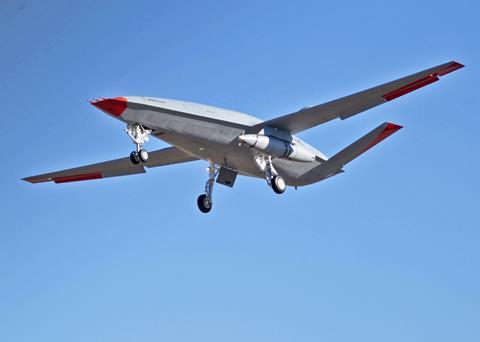 The aerial refuelling store is made by Cobham and is the same hardware used by US Navy (USN) Boeing F/A-18E/F Super Hornets for air-to-air refuelling, the company says.
"Having a test asset flying with an [aerial refuelling store] gets us one big step closer in our evaluation of how MQ-25 will fulfill its primary mission in the fleet – aerial refuelling," says Captain Chad Reed, the USN's Unmanned Carrier Aviation programme manager. "T1 will continue to yield valuable early insights as we begin flying with F/A-18s and conduct deck handling testing aboard a carrier."
Boeing says it plans to work with the USN to conduct future flights to further study the aerodynamic interaction of the aircraft and the refuelling store at different points of the flight envelope. The company says it aims to then progress toward extending and retracting the hose and drogue contained within the aerial refuelling pod.
The MQ-25A T1 is a Boeing-owned test asset that the company is using to speed up early learning and discovery, ahead of development and test of USN-owned engineering and manufacturing development MQ-25A Stingrays. The T1 had been flown about 30h prior to the addition of the aerial refuelling store.
The USN wants the MQ-25A to achieve initial operational capability by 2024. The service plans to buy as many as 76 examples of the aircraft as part of its programme of record.
The MQ-25A is partly intended to free up the F/A-18E/F, which sometimes acts as a substitute in-flight refuelling tanker. Moreover, the unmanned tanker would allow the Super Hornet and the Lockheed Martin F-35C to fly further, allowing the USN to keep aircraft carriers at a safer distance from the enemy.