Boeing is pitching its Airpower Teaming System (ATS) loyal wingman unmanned aircraft to global air forces ahead of the Dubai air show.
The unmanned air vehicle (UAV) was developed with the Royal Australian Air Force (RAAF) in mind, but Boeing believes there is a "significant market" internationally for the new aircraft type.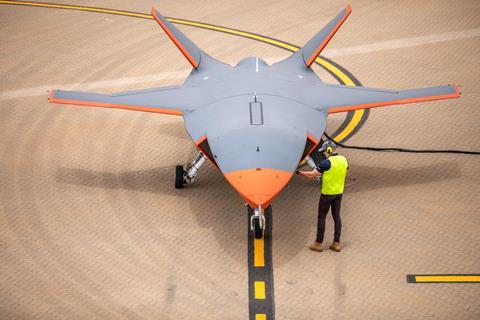 The manufacturer declines to name specific countries that it believes could become customers, although it made its case for the ATS during an October pre-Dubai air show press briefing, indicating the company sees Middle Eastern nations as potential clients.
The Boeing ATS is designed as an "attritable" loyal wingman UAV. It is being developed and funded in partnership with the RAAF, which has ordered six aircraft.
Attritables are a new class of unmanned aircraft that are designed to be so inexpensive that an air force could afford to lose many examples to combat attrition and then affordably replace them. The concept originated with the US Air Force, which defines attritable UAVs as priced between $2-20 million apiece.
Loyal wingman vehicles are UAVs that would use artificial intelligence and other software to fly autonomously in coordination with manned aircraft. For example, a loyal wingman UAV might fly forward of manned fighters, scanning the horizon for enemy aircraft and even firing air-to-air missiles in defence of its human teammates.
Boeing advertises the ATS as having "fighter-like flight performance", reaching speeds greater than 600kt (1,111km/h) and with a range of more than 2,000nm (3,700km).
The ATS has a modular nose cone that can be rapidly swapped in the field. The nose cone can house intelligence, surveillance and reconnaissance equipment, as well as training and tactical early warning payloads, says Boeing.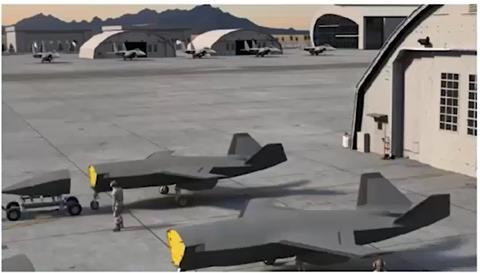 At the core of Boeing's ATS pitch to global air forces is the ability to use that modular nose cone to field country-specific payloads.
"It allows an individual nation to develop their own key capabilities that helps them with their own national prosperity and sovereignty objectives," says Greg Ferguson, Boeing's director of the Airpower Teaming System programme.
Buyers of foreign military kit often require a certain percentage of an ordered product's value to be created locally, a carve-out known as an "offset". Nations also often demand sovereign control over sensitive technologies, like communications and computer equipment, to guard against sabotage and infiltration. Boeing says the modular nose cone on its ATS could help fulfill those objectives.
The modular nose also "gives you a lot of flexibility for how you might package your force and also how you might reconfigure that when you have a different mission to be done on the next day", Ferguson adds.
And, an attritable loyal wingman might allow an air force to grow its combat fleet for less money.
"We see customers around the world facing a similar challenge: the need to increase the force mass to match and overmatch future threats, and to do so affordably, with less risk to manned systems," says Ferguson.
Though the ATS was designed with the RAAF fleet in mind, it ought to be able to integrate with a wide variety of manned combat aircraft. "We have complete flexibility to use whatever data link or communications mechanism is needed to integrate back into the air vehicle," says Ferguson.