Boeing Australia plans to unveil its first Airpower Teaming System unmanned air vehicle (UAV) on 5 May, when it presents the aircraft to the Royal Australian Air Force (RAAF).
The Airpower Teaming System is Boeing's first attempt to build a loyal wingman, a UAV designed to protect and assist manned fighters. The manufacturer plans to build three examples of the prototype aircraft for Canberra.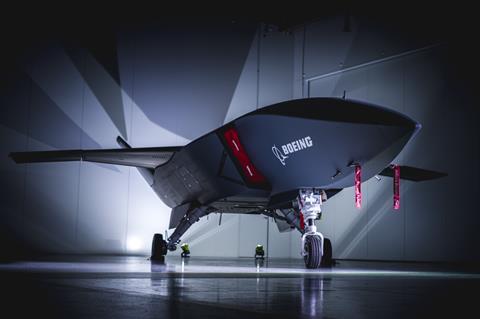 Later this year, the Airpower Teaming System will undergo ground testing, followed by taxi tests and its first flight test. After that, manned-unmanned teaming test flights will be conducted, says the firm. Testing is to be done at undisclosed locations in Australia.
Boeing aims to manufacture the Airpower Teaming System as an attritable aircraft – a UAV cheap enough to be lost during combat without breaking the bank.
The manufacturer claims the UAV has a low price point, but declines to specify costs. The closest competitor to the Airpower Teaming System is Kratos Defense & Security Solutions' XQ-58A Valkyrie, which claims a price of $2-3 million per unit depending on quantities ordered.
The Australian government announced in February 2019 an investment of A$40 million ($25.7 million) in the Airpower Teaming System. Boeing declines to disclose its investment in the programme. The company also declines to disclose if it or the RAAF owns the aircraft.
To keep costs low Boeing says it is leveraging advanced manufacturing techniques from its commercial airliner division, including developing a digital twin of the aircraft to help model structures, systems, capabilities and lifetime maintenance requirements.
"It's one of the most comprehensive digital twins within Boeing," says Shane Arnott, programme director of Boeing Australia's Airpower Teaming System.
The aircraft was also made using Boeing's largest-ever resin-infused single-composite piece. "The wing is actually two pieces – a top and a bottom that snap together," says Arnott.
The technique was pioneered on the 787 programme, he adds. "As a relatively small programme, we're able to reap the benefits of the big freight train programmes in Boeing," Arnott says.

The Airpower Teaming System comes with a 2.6m (8.5ft)-long modular nose cone that has a volume of more than 1.47cbm (52cb ft). Because the aircraft has an open systems electronics architecture, operators can quickly swap in and out modular nose cones with different payloads, such as various intelligence, surveillance and reconnaissance cameras. That should allow a country to more easily add proprietary payloads, says Arnott.
The Airpower Teaming System will be controlled with "artificial intelligence", he adds. Boeing declines to explain in detail how the system works.
In broad terms, a controller in another aircraft, such as an officer in the back seat of a Boeing EA-18G Growler, would use the manned-unmanned teaming system to signal mission intent to the loyal wingman, letting the artificial intelligence system determine specifics, such as navigating to a destination. The system would also have safety protocols to ensure loyal wingmen keep safe distance from controlling aircraft.
Retrofitting an aircraft with a manned-unmanned controlling system would be relatively easy and low cost, says Boeing.
"We have an approach that is flexible and does not require significant modification to the other aircraft," says Arnott. "We're not looking to push any upstream requirements from our aircraft. You can't get an affordable system and then require significant upstream changes. That's a core part of the concepts to make it easy to adopt this into a fleet."
Boeing is exploring using its Airpower Teaming System in a number of roles, in addition to using the aircraft as a loyal wingman to fighters. In particular, the company is exploring the idea of using the UAV to protect vulnerable commercial-derivative aircraft, such as Boeing's P-8A Poseidon maritime patrol aircraft.
The company declines to give specific performance details about the Airpower Teaming System. Previously, it said it would offer "fighter-like performance" and a 2,000nm (3,700km) range.