Collins Aerospace has demonstrated a "directional communications system" that could allow unmanned air vehicles (UAVs) to securely transmit battlefield data while operating in contested airspace.
Such a communications system would be more difficult for an adversary to jam or eavesdrop on.
The company developed and demonstrated the directional communications system as part of the US Defense Advanced Research Projects Agency's "Pheme" project, it said on 9 November.
Collins is touting the technology as enabling the Department of Defense's envisioned Joint All Domain Command and Control battlefield network.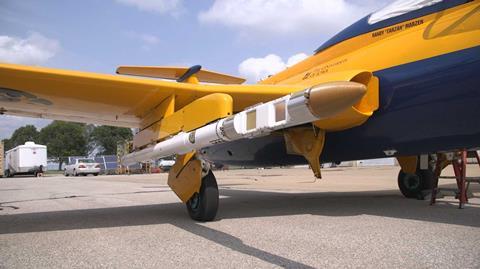 Conventional radio communications systems broadcast in multiple directions, increasing the likelihood that such transmissions might be detected, intercepted or jammed.
"For increased covertness and resilience, Collins developed a directional communication system leveraging 5G technology that radiates energy only in the direction of the receivers," the company says. "This system incorporates new directional discovery and tracking techniques that enable operations in GPS-denied environments."
Collins' recent demonstration involved high-throughput video and control data transmission with "minimal detection". The system was carried under the wing of a small jet and transmitted data to a ground receiver.
The US Air Force is working to develop a fleet of networked UAVs that would perform missions including intelligence, surveillance and reconnaissance, air-to-air combat and air-to-ground strikes.
Such UAVs, typically smaller than manned aircraft, need diminutive systems to match. Collins says its communication system fits within a 12.7cm (5in)-diameter pod.
"This demonstration represents a significant step forward in enabling platforms to operate in contested environments in a very aggressive [size, weight and power] envelope," says Ryan Bunge, vice-president of communication, navigation and guidance solutions for Collins Aerospace.