Elbit Systems has demonstrated its Micro Spear electronic warfare system detecting and locating a radar site beyond 3.2nm (6km) while flying aboard the Area-I Altius-600 air-launched effect.
Air-launched effects are a broad category of unmanned air vehicles (UAVs) designed to act as extensions of other UAVs or rotorcraft for missions such as reconnaissance, electronic warfare and loitering munition strikes. The US Army wants to use the small drones to probe and disrupt enemy air defences, creating opportunities for the General Atomics Aeronautical Systems MQ-1C Gray Eagle and the Future Attack Reconnaissance Aircraft (FARA) to attack.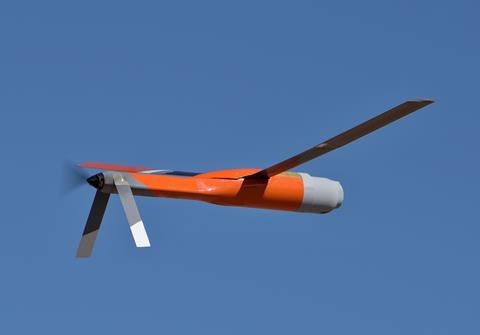 Elbit's Micro Spear, which fits into a modular nose cone on the Altius-600, took about a minute and a half to "precisely" locate a radar during flight tests at the US Army's Yuma Proving Ground in Arizona at the end of September and beginning of October, Layne Merritt, vice-president of technology and innovation for Elbit America, said on 13 October. The company intended to show that the small system could perform a detect, identify, locate and report mission, he says. Merritt declines to say if the demonstration was performed for the US Army.
Because the tube-launched Altius-600 is so small – it has a maximum payload of 2.7kg (6lb) and a wingspan of just 254cm (100in) – Elbit uses multiple electronic warfare systems hosted on multiple UAVs. By using radio receivers on two air-launched effects, the company says its algorithm can triangulate the position of an adversary's radar.
In addition to being able to detect radar sites, the Micro Spear has electronic countermeasure capabilities. A stand-in jammer, the system operates closer to its targets than stand-off jammers, such as the Boeing EA-18G Growler's ALQ-99 airborne electronic warfare system, which requires much more power to transmit radio waves over longer distances.
Merritt declines to say what sort of electronic countermeasures the Micro Spear can use to disrupt an adversarial radar, noting that the information is classified. "There's things you can do with one, two or three vehicles, manoeuvring-wise and digital signals-wise, to confuse that radar," he says.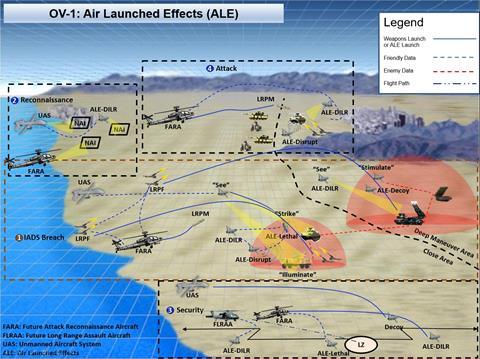 The Micro Spear is designed to protect other UAVs from adversarial radar, but may eventually be able to provide cover for rotorcraft as well, says Merrit.
The US Army intends to deploy air-launched effects from FARA and the Gray Eagle. The drones are expendable and have short flight endurances. For example, the Altius-600 can fly for about 4h or 240nm.
The service hopes it can disrupt or blow a temporary hole in enemy air defences during that short period. That is the electronic warfare application for which Micro Spear is intended, Merritt says.
"You're not talking about hours and hours of jamming here. That's what the big air force and navy assets are for," he says. "This is where you're trying to do a deep attack or an air assault and you need to get through this integrated air defence system. You can have a short-term tactical effect."