General Atomics, known for unmanned air vehicles (UAVs) that for decades conducted armed reconnaissance over Iraq and Afghanistan, is attempting to retool its aircraft with a futuristic arsenal of weapons, including lasers and missile interceptors.
The company's aircraft were never designed to survive modern aerial combat. Rather, the propeller-driven UAVs were made to surveil and then strike terrorists and insurgents – combatants who lack the ability to shoot back.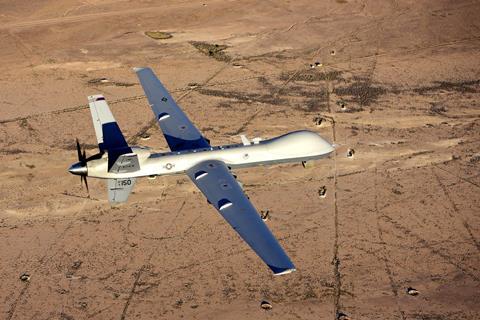 New weapons are the latest attempt by the manufacturer to pivot away from the War on Terror toward an era of so-called great power conflict, where the USA expects increasingly to face off against advanced autocratic regimes. General Atomics believes self-protection weapons are needed to get close to a fight with sophisticated foes, such as China and Russia: militaries that field advanced surface-to-air missiles and fighter aircraft.
After a surge in shoot downs of UAVs in the Middle East in recent years, the Pentagon is reassessing the roles of the US Air Force's (USAF's) General Atomics MQ-9A Reaper and US Army MQ-1C Gray Eagle. The USAF is attempting for the second time in the past two years to eliminate purchases of additional MQ-9As from its budget, despite opposition from some members of the US Congress.
With plans to keep the MQ-1C and MQ-9A in service until 2038 and 2044 respectively, both services also continue to make incremental upgrades to their existing fleets. But with the possibility that either service could attempt to free funds for next-generation aircraft by retiring UAVs early, as was done with some Boeing B-1B Lancer supersonic bombers, General Atomics is making the case that hi-tech upgrades could stretch the lifespan of its aircraft well into the future.
LASER DEFENCES
"When we look at our UAV line, we can't out run a missile," says Scott Forney, president of General Atomics' Electromagnetic Systems Group. "So, we're doing two things: we're developing an ultra-short pulse laser, that would be able to take out missiles coming at our UAVs. But as a back-up, were developing a kinetic interceptor."
The ultra-short pulse laser would be small enough to fit on the MQ-1C Gray Eagle or MQ-9A Reaper. Those UAVs are made by General Atomics Aeronautical Systems, an affiliate company. The weapon ought to be able to zap targets up to 2.7nm (5km) away.
The Electromagnetic Systems Group makes all sorts of lasers, including rangefinders, optical communications systems for passing data between satellites, and high-energy lasers designed for blasting missiles, drones and in-bound artillery shells.
"But the ultra-short pulse laser is not a blowtorch," says Forney. "It has pulses of energy that would disturb electronics and other things. That's a much more difficult technology to be able to pulse it at those rates."
To work, the laser would need to flash in a nanosecond to femtosecond – one billionth to one quadrillionth of a second.
"I don't know if we can succeed, candidly," says Forney. "But if we can, it's a small laser. You're talking about something that's 10kW or less."
The advantage of the ultra-short pulse laser is that it is small and requires much less power than directed energy systems, which often need dozens if not hundreds of kilowatts of power.
Forney adds that the system can also double as a "blow torch" sort of laser if desired. He does not disclose the range of that mode or how it switches between types.
The ultra-pulse laser system relies on a high energy capacitor to step up power and a battery that would serve as a "magazine".
"We always want to have a magazine if you're in a fight," says Forney. "You don't want to run out of shots."
The technology has just recently entered lab testing after three years and millions of dollars in internal funding, he says.
"If we can make it work, you don't need to have a big laser on board, you don't need kinetic interceptors, because you've got basically a rechargeable [weapon]," says Forney. "It's a cup of coffee to recharge. It doesn't cost anything. Its effects should be strong enough that you will have great asset protection."
MISSILE INTERCEPTORS
General Atomics is not waiting to find out if the ultra-short pulse laser works.
As a back-up, the firm is developing what it calls an Aircraft Self-Protect missile. There is not a request for a missile interceptor from a customer, so General Atomics is funding the weapon itself.

The rocket-powered weapon is designed to shoot down incoming missiles. It ought to be able to intercept incoming missiles up to 2.7-5.4nm away.
An MQ-1C Gray Eagle or MQ-9A Reaper could carry eight Aircraft Self-Protect missiles. Forney expects multiples would be fired at an incoming missile.
The Aircraft Self-Protect missile is about 1.52m (5ft) long and weighs about 25kg (55lb). The manufacturer believes it can reduce the weapon's weight to as little as 20.4kg. By comparison, the Raytheon AIM-9X Sidewinder short-range air-to-air missile weighs more than twice that, about 84.4kg.
The missile interceptor will be "very low cost", says Forney.
"We do our own electronics: guidance electronics, telemetry, [inertial measurement units], actuation systems for projectiles," he says. "So, we were able to adapt that towards the [Aircraft Self-Protect missile]."
The company has also found a supplier for a low-cost rocket motor, says Forney. He declines to name the manufacturer.
General Atomics plans to do a ground-launch test of the missile before the end of the year. In 2022, it aims to fly it off an aircraft.
EDGE OF BATTLE
Laser and missile interceptors are intended to help General Atomics Aeronautical Systems' UAVs survive at the fringe of contested airspace. From the edge of the battle the company wants to take advantage of its aircrafts' long flight endurance.
The firm's MQ-1C Gray Eagle Extended Range, fielded by the US Army, is capable of flying for 42h straight. Its MQ-9A Reaper can fly for 29h.
General Atomics believes the hang time of those aircraft can provide the US Army and USAF with long-lingering platforms from which to conduct intelligence, surveillance and reconnaissance and air-launched effects missions.
"Our vision is that we're the [air-launched effects] truck," says Dave Alexander, president of General Atomics Aeronautical Systems.
Air-launched effects (ALEs) are a sort of multipurpose drone that would be carried aloft and launched from larger UAVs. The small unmanned aircraft could be used to conduct reconnaissance, electronic warfare or even loitering munition strikes. The US Army is particularly interested in the type as a means to penetrate enemy air defences in coordination with its Future Attack Reconnaissance Aircraft, a next-generation scout rotorcraft replacement for the Bell OH-58D Kiowa Warrior.
Alexander argues that the long flight endurance of the MQ-1C Gray Eagle Extended Range and the MQ-9A Reaper ought to give the services the "flexibility to persist and then take action when the timing is right".
General Atomics is agnostic about what ALEs are launched from its UAVs. In October it announced a partnership with the US Army to develop a modular open system architecture for the Gray Eagle Extended Range, a configuration that ought to make it easier to incorporate upgrades and swap payloads, including ALEs.
Still, the company is experimenting with development of its own air-launched effects, including a UAV for the US Army that it declines to name, but calls "ALE Large".
That UAV is propeller driven, with a flight endurance of up to 7h. It has a piston engine that runs on heavy fuel and an on-board generator that puts out a kilowatt of power. It weighs about 68kg and can carry a 9.1-13.6kg payload.
The ALE Large would cost about $200,000 a copy, depending on the quantity ordered. That price tag does not include the cost of payloads.
General Atomics plans to flight-test the UAV in the middle of 2022. After that the company will attempt to air launch it from a Gray Eagle.
The aerospace firm has already demonstrated the Area-I Altius 600, a small ALE, deploying from its Gray Eagle. Alexander says a "medium" ALE has been deployed from its MQ-1C also, but he declines to elaborate.
General Atomics has also internally funded and developed an ALE called SparrowHawk that is intended to be launched from the USAF's MQ-9A. The company has conducted a captive carry test with the UAV, but is waiting to move forward with flight testing until it gets "some customer skin in the game".
SparrowHawk weighs about 91kg, can carry a payload of about 13.6kg and would have a 174nm range, General Atomics has said.
The UAV is a spin-off from the company's failed bid for the US Defense Advanced Research Projects Agency's Gremlins programme. That effort, won by Dynetics, aims to repeatedly launch, recover and refuel a UAV from the cargo ramp of an airborne Lockheed Martin C-130J transport.
General Atomics' SparrowHawk would be just as ambitious, albeit on a smaller scale that fits under the wing of an MQ-9A. It would be captured by the larger UAV in flight using a reel-in and reel-out cable tow mechanism.
While ALEs are often designed to be disposable or "attritable" – cheap enough to be replaced after combat attrition losses – Alexander says a recoverable system would justify more expensive and capable payloads.
"It will be the holy grail when you're able to recover one of those, because now you can make it a quite expensive platform to do even more," he says. "That's going to be a big deal once somebody figures out how to air recover."
USE WHAT YOU'VE GOT
General Atomics believes a "nested approach" – using a bigger unmanned aircraft to launch a small UAV deep into enemy territory – ought to prolong the usefulness of the MQ-1C and MQ-9A, and should be an important part of the USAF and US Army's future combat concepts.
At the core of General Atomics' development efforts is an argument that the Pentagon ought to stick with and adapt the UAVs it has got. Other upgrade ideas the company has pitched include a "Big Wing" retrofit for the MQ-9A that would extend the UAV's flight endurance to more than 43h, new sensor payloads for potential ballistic missile spotting and maritime patrol roles, smaller ground control systems, a countermeasures pod and software automations.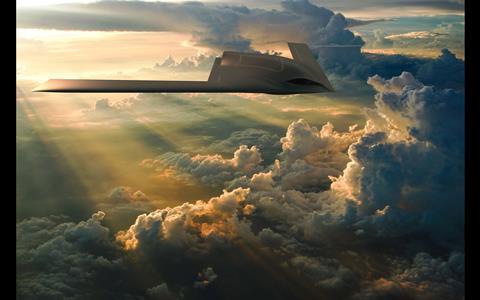 For its part, the USAF wants something new. In 2020, the service said it wants a stealthy "MQ-Next" family of UAVs for armed reconnaissance deep into enemy territory. Those UAVs would begin to replace the MQ-9A in 2030. In response, General Atomics unveiled last year an "ultra-long endurance" flying-wing design concept.
Still, the company is pushing back against USAF efforts to stop purchasing the MQ-9A. The service left the UAV out of its fiscal year 2021 budget, but Congress ultimately included it in the FY2021 National Defense Authorisation Act. The USAF is trying again to eliminate additional MQ-9A purchases from its FY2022 spending plans. It remains to be seen if it will be included in the FY2022 National Defense Authorisation Act.
Secretary of the USAF Frank Kendall lamented in September that the MQ-9A, as well as the Lockheed C-130, Fairchild Republic A-10, and Boeing KC-10, were siphoning resources from aircraft better tailored for fights against advanced adversaries. Examples of aircraft the USAF wants to prioritise buying include the Lockheed F-35 stealth fighter, Northrop Grumman B-21 stealth bomber and the Next-Generation Air Dominance aircraft, a top-secret, in-development sixth-generation fighter.
"We will not succeed against a well-resourced and strategic competitor, if we insist on keeping every legacy system we have," Kendall said.
With the US Army, General Atomics appears to be attempting to head off interest in developing a next-generation UAV.
"We can save the army $4 billion by just not saying, 'Oh, I gotta throw this away and then go with an advanced [UAV],'" says Alexander, claiming the MQ-1C can remain relevant if its sensors, communications equipment and weapons are upgraded.
The Reaper and Gray Eagle are relatively young aircraft designs, introduced into service in the last 15 years – though both aircraft trace their lineage to the General Atomics Gnat 750, a UAV developed in the 1980s for the Central Intelligence Agency.
Ultimately, General Atomics argues the Pentagon ought to stretch its return on investment in the MQ-1C and MQ-9A by finding new ways to use the unmanned aircraft.
"The mission is shifting. It doesn't mean the platform is not relevant," Alexander says. "Keep the sensors modular and let the sensors change, but don't reinvent the wheel every day."