General Atomics Aeronautical Systems unveiled a conceptual unmanned air vehicle (UAV) called "Defender" intended to serve as an air-to-air missile platform for protecting large and slow-moving aircraft, including aerial refuelling tankers.
The Defender appears a variant of the company's Predator C Avenger, a jet-turbine-powered UAV intended for armed intelligence, surveillance and reconnaissance (ISR) missions. General Atomics has produced limited numbers of Predators for the US Air Force (USAF).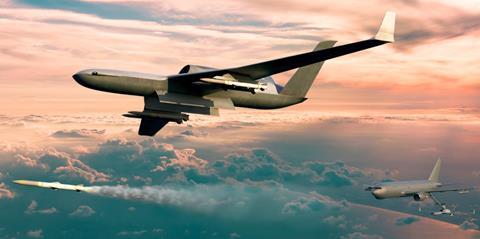 Defender is only a concept, and General Atomics has secured no customers nor is pursuing a specific USAF programme, says Chris Pehrson, General Atomics' vice-president of strategic development for Department of Defense customers.
"The role of this type of platform would be protection of high-value airborne assets, such as the tankers and 'big wing' ISR platforms that comprise what the USAF calls the 'outside force,'" Pehrson says during the Air Force Association Air Warfare Symposium in Orlando on 28 February.
"The outside force, with Defender ensuring safe sanctuary, would support the penetrating 'inside force' that operates in more-contested regions of the battle space," Pehrson adds.
Protecting tankers and ISR aircraft with UAVs could free manned fighters, such as Lockheed Martin F-35As, to launch strikes deep into enemy territory.
A rendering released by General Atomics shows a Defender in flight having released a missile from its internal weapons bay. The UAV flies ahead of a Boeing KC-46 tanker that is refuelling another Defender.
In-flight UAV refuelling would be novel for the USAF, but the government has evaluated the concept. In 2012, NASA and Defense Advanced Research Projects Agency demonstrated a Northrop Grumman RQ-4A Global Hawk autonomously refuelling another RQ-4A. In 2015, the US Navy autonomously refuelled the X-47B unmanned combat aerial vehicle.
Aerial refuelling could enable Defenders to stay on station longer, reducing the number of aircraft needed and minimising gaps in protection. The extended-range variant of General Atomics' Avenger already has a 20h flight endurance.
The Avenger has a 2,948kg (6,500lb) payload capacity, including the ability to carry 1,588kg worth of munitions or sensors internally. It can operate up to 50,000ft and has a standard dash speed of 350kt (648km/h).