General Atomics Aeronautical Systems conducted captive carry tests of its Sparrowhawk unmanned air vehicle (UAV) aboard an MQ-9A Reaper on 16 and 17 September.
The small, jet-powered UAV has not been shown in public before, though FlightGlobal first reported its existence in November 2019. The picture released by the company shows a one-piece wing that pivots in line with the drone's fuselage, presumedly to reduce drag and unwanted lift while it is being carried by the MQ-9. Such a wing would rotate 90° for independent flight.
Previously, the company said the air launched effect is not a programme of record with the US Air Force (USAF), but funded with internal research and development money.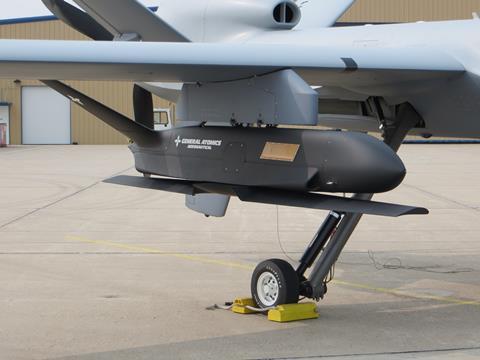 Sparrowhawk is designed for intelligence, surveillance and reconnaissance (ISR), as well as electronic warfare work. It is to be air launched and air recovered by the larger MQ-9 UAV, the company said on 25 September. The UAV is described as "attritable", meaning it has a limited lifespan and is cheap enough to be lost during combat.
General Atomics is positioning the air launched effect as an example of an "attritableONE" technology, an attritable UAV that is connected to the US Air Force's (USAF's) battlefield network, the Advanced Battle Management System (ABMS).
"Sparrowhawk extends and multiplies MQ-9-based sensors, reduces manpower and increases ISR coverage," says David Alexander, president of General Atomics Aeronautical Systems. "With attritableONE technology that is survivable and precise, Sparrowhawk is a true game changer."
The company notes one other example of attritableONE technology: Area-I's Altius-600, a small air launched effect. In June, two Altius-600s were air-launched from a General Atomics MQ-1C Gray Eagle Extended Range UAV as part of a demonstration for the US Army.
As part of the recent captive carry flight tests, the Sparrowhawk UAV was controlled using General Atomics' Metis software defined control station. That program is run from a laptop, instead of a ground control station shelter or vehicle. General Atomics claims that using only a laptop would "drastically reduce the system's logistical footprint and supports the vision for interfaces to the aircraft from across the battlefield".
Communication between laptop and Sparrowhawk were facilitated by the ABMS' meshONE datalink, a high-bandwidth tactical radio network that is being developed by Silvus Technologies to connect various military equipment including aircraft, ground vehicles, soldiers, ships and UAVs.
General Atomics also tested US Defense Advanced Research Projects Agency's (DARPA's) Cooperation in Denied Environments (CODE) autonomy engine, a form of artificial intelligence software for coordinating the operation of UAVs.
CODE would allow UAVs to "continuously evaluate their own states and environments and present recommendations for coordinated [UAV] actions to a mission supervisor, who would approve or disapprove such team actions and direct any mission changes," says DARPA.
The USAF is working on a similar collaborative software program, called Skyborg, to control and coordinate the missions of next-generation loyal wingman UAVs. CODE differs from Skyborg in that it is designed to be retrofitted on legacy UAVs – for example, the MQ-9 – using existing standards.
Sparrowhawk was borne out of General Atomics' failed bid for DARPA's Gremlins programme, an effort to launch and recover jet-powered drones from the back of a Lockheed Martin C-130 transport. That programme contract was won by Dynetics and testing of the Gremlins UAV remains underway.
General Atomics notes that air launching and air recovering the Sparrowhawk has several advantages, including allowing the MQ-9 to remain at safe stand-off ranges, while the attritable UAV conducts ISR or electronic warfare missions deep into enemy territory.
Air launching and air recovery would allow Sparrowhawk to carry "larger and more expensive payloads at greater transit ranges compared to ground-launched aircraft and air-launched expendables", says General Atomics. Air recovery of the UAV also "maintains the chain of custody, through adverse weather, MQ-9 rotations or with multiple targets," the company says.
In November, General Atomics told FlightGlobal that the small UAV could be available for purchase by customers in 2021. The Sparrowhawk weighs about 91kg (200lb), can carry a payload of about 13.6kg and would have a 174nm (322km) range, the company said.