General Atomics Aeronautical Systems unveiled a new medium-altitude, long-endurance unmanned air vehicle (UAV) on 9 December that can take off and land in as little as 152m (500ft), including from dirt runways or aircraft carriers.
The UAV could be used to support special operations missions, the firm says. The company also sees the UAV as useful for expeditionary warfare or naval operations – missions the US Department of Defense is eyeing in the Western Pacific as it works to counter the fast-growing Chinese military.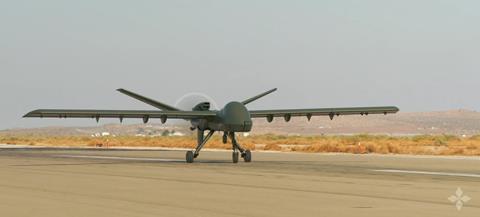 General Atomics says it first flew a prototype of the short take-off and landing (STOL) aircraft "this summer". A test campaign for the UAV is ongoing.
The UAV uses enlarged wings for STOL performance and beefed-up landing gear for rough touchdowns. When it carries no external payloads, the aircraft can fly for more than 25h. It is powered by the Rolls-Royce M250 turboshaft, a 450hp (336kW) engine.
The Mojave has a payload capacity of 1,630kg (3,600lb) and hardpoints for up to 16 Lockheed Martin AGM-114 Hellfire air-to-surface missiles. Maximum payloads would reduce the aircraft's endurance and extend its take-off distance significantly, however.
The STOL aircraft borrows avionics and flight control systems from the US Air Force's (USAF's) MQ-9 Reaper and US Army's MQ-1C Gray Eagle-Extended Range. It is built around the fuselage of the latter model.
Despite borrowing from earlier UAVs developed by General Atomics, Mojave is a "purpose-built airplane, designed from the ground up for expeditionary use in rugged environments or in atypical runway conditions", says the manufacturer, which notes that the Gray Eagle or Reaper could not gain STOL performance with a wing retrofit. "Mojave is designed with an eye toward dirt roads, hard-packed sand, dry riverbeds and other atypical runways," it says.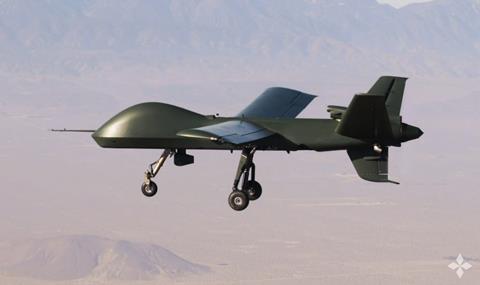 General Atomics says there is not a customer requirement for the UAV, but believes US and international customers would be interested. Mojave is best suited for armed reconnaissance missions, the company says.
"We are providing the ground force with a long-endurance, armed overwatch [UAV] that can quickly reload weapons at austere sites, located close to the conflict zone," says General Atomics chief executive Linden Blue.
The design's short take-off capability means that the Mojave might be able to operate from the top of the US Navy's nuclear-powered aircraft carriers or even smaller amphibious assault ships, which often carry US Marine Corps expeditionary units.
"Mojave would not require catapults or arresting gear for sea-based usage," says General Atomics. "We believe an aircraft carrier making 20kt [37km/h] could launch Mojave today."
General Atomics says the UAV could be used for naval missions or sea-based support of special operations forces. The company says the aircraft can carry several sensors, including an electro-optical/infrared camera in its nose, the Eagle Eye long-range radar - which has synthetic aperture and moving target indication capabilities - as well as a signals intelligence payload.
Mojave is the latest attempt by General Atomics to adopt its UAVs – designed for counter-insurgency and counter-terrorism operations – for new conflicts. For instance, the Pentagon has worried that in potential clashes with advanced adversaries, such as China or Russia, the Reaper and Gray Eagle would be too slow-moving and easy to spot on radar. That makes the UAVs vulnerable to modern surface-to-air missiles and combat aircraft.
However, General Atomics claims its UAVs, which have long flight endurance and extensive use within the US Army and USAF, could be repurposed or modified for modern combat.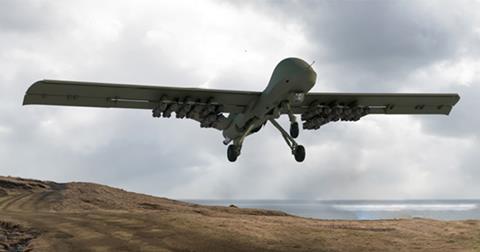 The company has also argued that its unmanned aircraft should be considered for USAF Special Operations Command's (AFSOC) Armed Overwatch programme. AFSOC is looking for 75 light-attack aircraft to perform close air support and armed reconnaissance for its ground troops. The command has so far excluded UAVs from the Armed Overwatch competition, focusing instead on manned fixed-wing aircraft. AFSOC has said that UAVs, such as the MQ-9, require too much manpower, runway length and infrastructure to operate alongside special operations troops in austere conditions.
In addition to its STOL capabilities, General Atomics says the Mojave would be able to carry forward-firing weapons, such as the Dillon Aero M134D-H minigun. Similar guns are found on some of the manned Armed Overwatch competitors and would be used for strafing enemy troops.
"A detachment of Mojaves, working in concert with other US and allied forces, will change the way special operations forces fight," says General Atomics. "American or friendly troops could have constant surveillance over an area of interest well ahead of an operation, armed support during it, and then lingering surveillance after they had returned to base."
Updated on 9 December with additional information from General Atomics