General Atomics Aeronautical Systems has unveiled a rendering of its next-generation intelligence, surveillance and reconnaissance (ISR) and strike unmanned air vehicle (UAV) as a proposed replacement of the US Air Force's (USAF's) MQ-9A Reaper.
The flying-wing aircraft is designed to have "ultra-long endurance", General Atomics president David Alexander said on 14 September.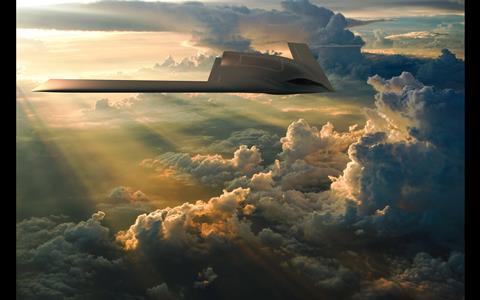 "We're embracing ultra-long endurance, to keep our next-generation ISR [and strike UAV] in the fight for longer periods than many ever imagined possible," he says. The company's proposed aircraft will have the "ability to stay engaged in the fight far longer than current-generation [UAVs]", Alexander adds.
The USAF's MQ-9A has an endurance of 27h, while the US Army's MQ-1C Grey Eagle Extended Range can be flown for up to 42h.
"Our advancements in propulsion technology will give commanders a longer reach than ever before," says Alexander of the new UAV. The company has not disclosed what sort of engine the aircraft would use.
The long, thin flying-wing design of the UAV also appears to have a high aspect, giving the aircraft a better lift-to-drag ratio, which would be helpful for efficiently flying for long periods of time.
The flying-wing design also is inherently stealthy, as the shape has fewer angles to reflect radar than a traditional tube-and-wing airframe. To further hide itself from radar, the UAV only has small slits for engine inlets which are set behind its leading edge. Jet turbine blades, with their many edges and twists, are highly reflective of radar, so concealing their features helps to reduce an aircraft's radar cross section.
The General Atomics UAV unveiling comes after the USAF released a request for information in June calling for ideas to replace its MQ-9 starting in 2030. The service has become worried that the aircraft, which was designed for ISR and strike missions against terrorists and insurgents, is vulnerable to sophisticated radar-guided surface-to-air missiles that are fielded by China and Russia.
In addition to long-endurance and stealth, General Atomics says it wants its next-generation UAV to be a highly reliable node in the USAF's battlefield network.
"We believe it is imperative that future unmanned systems are able to communicate, share information, and collaborate – together, and intuitively with their human counterparts – across systems and domains in record time," says Alexander.
The company aims to rely on different forms of aircraft autonomy, including artificial intelligence programs, to reduce the manpower needed to fly the aircraft and speed up the pace at which ISR information is gathered, digested and passed along.
"Our focus on automation and autonomous capabilities stems from an understanding that the increased speed and intensity of future warfare requires a similarly agile and intelligent set of systems – not just to reduce manpower and enable operations with minimal personnel, but also to reduce the burden on the tactical data transport network in contested communications environments," says Alexander. "Our next-generation ISR/Strike UAS will reshape the battlefield of tomorrow by compressing the 'observe, orient, decide, and act [OODA] loop'."
To quickly and continuously upgrade the UAV with the latest technologies, such as new sensors or more advanced computer processors, the company says it will have an open systems architecture and modular design. The aircraft is also designed to be interoperable with equipment outside the USAF's inventory, the firm says.