The Predator unmanned air vehicle (UAV) is perhaps the most iconic aircraft of the USA's 'War on Terror'. For the past 20 years, the public has grown familiar with the drone, including evening TV broadcasts replaying black-and-white footage gathered by the aircraft as it circled and fired its Lockheed Martin AGM-114 Hellfire missiles at targets in Iraq or Afghanistan.
But now, Washington has new enemies and new wars to prepare to fight. That has put the successor to the Predator, the US Air Force's (USAF's) MQ-9A Reaper, on the chopping block. In February, the service revealed in its budget proposal a plan to stop buying the UAV in fiscal year 2020.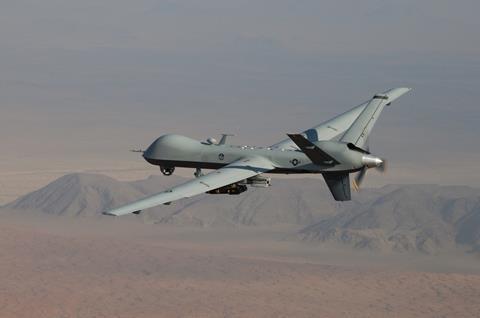 The Department of Defense (DoD) is in the middle of a massive shift in spending priorities, moving away from combating terrorism and Islamic insurgencies toward deterring aggression by rising rivals China and Russia. That is forcing the maker of the US military's most-famous armed reconnaissance UAVs, General Atomics Aeronautical Systems, to rethink its business.
The San Diego-based company has reacted with a flurry of new initiatives in the past couple of years intended to hold onto existing business, seize new opportunities in the near future and ultimately maintain its position as the USA's leading maker of armed reconnaissance UAVs going into the 2030s.
Whether all of these efforts will be profitable remains an open question. General Atomics has lost two important next-generation UAV development competitions in the past two years. In April 2018, the company lost to Dynetics the US Defense Advanced Research Projects Agency's Gremlins programme, an effort to launch and recover intelligence, surveillance and reconnaissance (ISR) drones from the back of a Lockheed C-130 transport. In August 2018, the company lost the US Navy's (USN's) MQ-25 Stingray competition to Boeing, a programme to develop an in-flight refuelling tanker UAV that would fly from the deck of an aircraft carrier.
The MQ-25 loss particularly stung. It cost General Atomics about $200 million in internal research and development funds, the company's president, Dave Alexander, said in 2018.
"MQ-25 was a sad day for us because we worked it almost 10 years," he recounted to FlightGlobal in October. "But you win some, you lose some. I think the lesson learned is that we just keep our eyes wide open."
END OF AN ERA
In August, General Atomics confirmed plans to lay off about 6% of its workforce, reportedly more than 600 employees. The UAV manufacturer declined to say at the time what caused the layoffs, rebuffing speculation that the job cuts were specifically connected to the cancellation of MQ-9A production.
The USAF's stoppage of MQ-9A building is due to the UAV's vulnerability to surface-to-air missiles, particularly the sophisticated batteries fielded by China and Russia. Previously, the aircraft flew with impunity above terrorist or insurgent targets who had no way to shoot it down.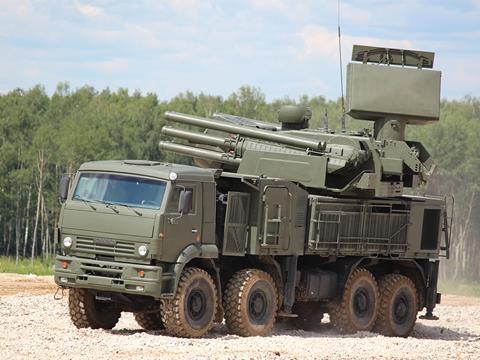 However, UAV shootdowns are now surging, especially in the Middle East, according to a July analysis by FlightGlobal using data from non-profit DroneWars. Previously, between 2015 to 2018, there were few incidents annually of suspected or confirmed downings of UAVs. But, the rate climbed to 14 in 2019, then jumped to 24 in the first six months of 2020.
In response, the USAF is taking more care to find and avoid surface-to-air missiles. It is also planning MQ-9A missions with "unpredictable" flight paths. For its part, General Atomics is developing its first countermeasure pod purpose-built for its UAVs, with features such as infrared countermeasures to confuse heat-seeking missiles and jamming to disrupt the aim of radar-guided missiles.
The planned cessation of MQ-9A production comes also as the DoD is increasingly cash-strapped. Due to record levels of national debt, most Pentagon watchers expect flat or slightly declining defence budgets in the coming years. With limited funds, Washington is cutting back on spending for the War on Terror and investing in technology for possible conflicts with so-called great power nations China and Russia.
OLD PRODUCTS, NEW CUSTOMERS
Nonetheless, in the immediate future, General Atomics believes there are still large opportunities for selling its armed reconnaissance UAVs, especially to international customers.
Previously, the company has been frustrated by US government export restrictions linked to the international Missile Technology Control Regime (MTCR) agreement, which classifies the UAVs as a form of cruise missile. The refusal of Washington to sell UAVs to anybody but its strictest allies allowed Chinese and Israeli UAV makers to fill in the gap in the market with low-cost products, claims General Atomics.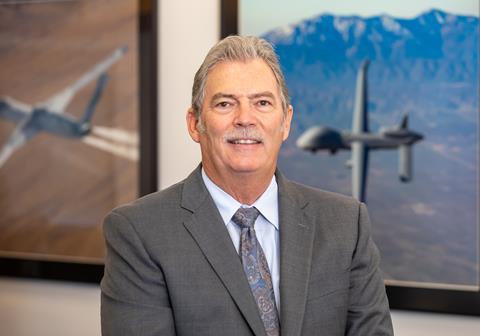 "Trying to compete with a Chinese or Israeli company, that's pretty difficult to win on price. But that doesn't mean we can't. Just knowing they're going to be low cost means we really got to bid tight," says Alexander. "Our customers are willing to see the advantage of going with a US platform that can be interoperable."
Still, giving Chinese manufacturers such as Chengdu Aircraft Industry Group, the maker of the Wing Loong II, a foothold can be dangerous, he says. "My big concern is the Chinese. Once they're in, they're going to be in for 20 to 25 years, just due to the logistics trail of bringing a system like that to bear," Alexander says.
But, new interpretations of MTCR by the Trump administration that classify slow-moving UAVs like the MQ-9 as exempt from export restrictions appear to be opening the door to foreign sales.
"A big piece of our strategy going forward is international sales. It's really picked up with the new unmanned aircraft export policy and MTCR changes," says Alexander. "We have a bright future in international sales right now. Really, really good."
The company is also being helped along by new contracting schemes developed by the USAF. In September, the service granted General Atomics the Agile Reaper Enterprise Solution (ARES) contract, which allows the firm to sell up to $7.4 billion worth of pre-priced MQ-9A aircraft. By establishing pre-negotiated prices, the service hopes the ARES contract will eliminate costly, back-and-forth negotiations and speed up the sales process.
General Atomics has also expanded its company-owned-and-operated UAV leasing programme to seven military services, adds Alexander, though he declines to name the specific military customers.
MQ-9B SKYGUARDIAN
General Atomics believes more capabilities can yet be wrung out of the MQ-9. The company is pushing forward a second iteration of the Reaper, the MQ-9B SkyGuardian, that is meant to make the UAV more acceptable in civilian airspace.
In particular, the MQ-9B is designed to meet NATO airworthiness type-certification standard STANAG 4671. The UAV also has a detect-and-avoid system to avoid collisions with civilian aircraft. Those features enable the aircraft to fly in NATO member countries' civil airspace, which might expand its use cases.
General Atomics is pitching the UAV as able to conduct a wide variety of missions including border patrol, fire detection and firefighting support, maritime patrol, law enforcement, search and rescue, disaster assistance and resource monitoring.
The SkyGuardian is being developed in coordination with the UK Royal Air Force, which calls its MQ-9B the Protector. Belgium has also ordered four examples of the SkyGuardian.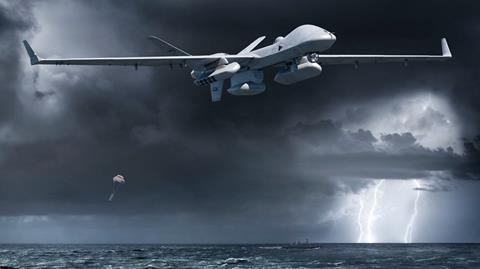 The maritime patrol variant of MQ-9B is called the SeaGuardian. General Atomics is particularly bullish on the project. (Notably, there are fewer surface-to-air missile threats on the sea compared to potential conflict zones on the ground.)
"A long-endurance, affordable aircraft like an MQ-9 is the perfect for the maritime mission," says Alexander. General Atomics claims the UAV costs about $5,000 hourly to operate. The MQ-9B's 40h endurance also far outlasts that of the USN's Boeing P-8A Poseidon maritime patrol aircraft, though its smaller payload means it is less capable.
General Atomics has said the maritime UAV could be outfitted with its Lynx synthetic aperture radar, a Raytheon SeaVue wide-area surveillance radar, a Raytheon multi-spectral targeting system, a Leonardo Sage 750 radar sniffing sensor, a Shine Micro automatic identification system for tracking ships and a sonobuoy dispenser.
The company is developing artificially intelligent software to quickly make sense of data coming from those sensors. It hopes the programme will make it easier to track activity in congested regions such as the Sea of Japan or South China Sea by narrowing the scope of a search from hundreds of boats to just a few suspicious ships that need to be investigated.
General Atomics plans to demonstrate the MQ-9B SeaGuardian's maritime patrol capabilities to the Japanese coast guard starting on 15 October. The company also demonstrated the capability to European nations off the coast of Greece in December 2019.
STAND-OFF PLATFORMS
To otherwise keep the MQ-1C Gray Eagle and MQ-9A Reaper relevant in an era of US military competition with China and Russia, General Atomics is rebranding and retrofitting the aircraft as stand-off platforms. The company says it believes the USA can keep the aircraft just out of the reach of an adversary's missile systems while using long-range sensors or air-launched effects to peer inside enemy territory.
For example, in February, the firm showed the US Army MQ-1C Gray Eagle Extended Range using L3Harris Technologies' Rio Nino communications intelligence system to detect electronic emitters, such as radar or radio communications. The Lynx radar was then used to cross-cue those targets at a range of more than 32.4nm (60km).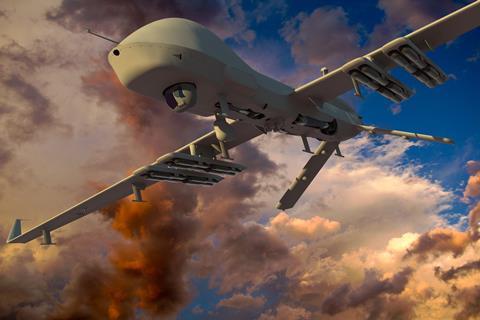 And in June, the company demonstrated the MQ-1C's ability to carry and launch Area-I Altius-600 drones. Those small reconnaissance UAVs – also known as air-launched effects – are designed to fly into enemy airspace and relay information as far back as 162nm.
The company hopes to prove to the US Army that the MQ-1C can use long-range sensors or air-launched effects to coordinate long-range strikes by artillery or attack helicopters.
General Atomics has similar ambitions for the USAF. Using internal research and development funds it is developing and testing an air-launched and air-recoverable jet-powered UAV called Sparrowhawk that would be carried by the MQ-9A. The air-launched effect would carry out ISR, as well as electronic warfare missions at ranges up to 174nm. Sparrowhawk was based on the company's rejected proposal for the Gremlins programme.
The firm is also developing half a dozen mission pods to increase the capabilities of its UAVs. Those include the Scalable Open Architecture Reconnaissance pod, a payload intended to identify, geolocate and characterise radio frequency signals emitted by adversary's radar or communication sites; the Sledgehammer, an electronic warfare pod; and the Airborne Laser Communications System, a low-probability-of-intercept data transmission device.
LONG-TERM BETS
General Atomics believes there is opportunity to make sense of data gathered from air-launched effects and new long-range sensors as well as the ISR information already being gathered by the MQ-9A and MQ-1C's current sensors. To that end, the company has proposed a suite of software applications incorporated into a command and control room product called the Integrated Intelligence Center.
"The voluminous amount of data that we get on these platforms is still somewhat stove-piped information," says Alexander. "We're getting to the point now where we have all this data and we need to get it into one place where we can action it, and have it all integrated together."
The facility is designed to integrate with any ISR platform, including aircraft, satellites, and vehicles that are not built by General Atomics. The company is offering the system to some international customers. And, this summer it demonstrated some of the Integrated Intelligence Center's software applications as part of a second demonstration of the USAF's Advanced Battlefield Management System (ABMS), an experimental military network.
"We're playing a big game in these ABMS demos that are going forward," says Alexander. "We're really doubling down on that because we do see that as the future."
As part of its budget proposal, the DoD requested $302 million to develop and experiment with potential ABMS technologies in FY2021. The Pentagon projects the programme will be funded with $3.3 billion through FY2025.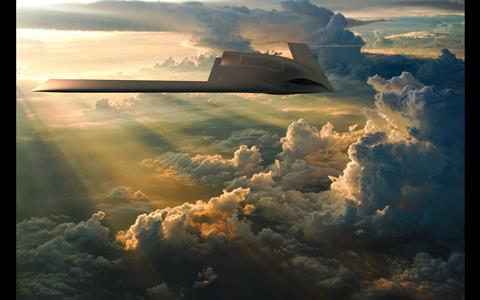 Perhaps the ultimate prize for General Atomics will be the programme to replace the MQ-9A Reaper in 2030. That effort, called MQ-Next, pits the firm against big prime manufacturers such as Lockheed and Northrop Grumman.
In September, the company came out with a stealthy flying wing proposal it claims will have "ultra-long endurance", surpassing flight times of current UAVs. That seems to mean a longer flight time than the US Army's MQ-1C Gray Eagle Extended Range, which can be flown for up to 42h.
"We have to really provide something compelling," Alexander says. "I think if we can keep the cost down – make it MQ-9-like in cost – [give] it eye-watering endurance, I think we will have something."
Update: Article changed on 13 October with new information about the MQ-9B SeaGuardian's upcoming demonstration for the Japanese coast gaurd