Kratos Defense & Security Solutions flight tested its Air Wolf attritable unmanned air vehicle (UAV) for the first time at a test range in Oklahoma.
The recent flight test was "100% successful" and was conducted at the Burns Flat, Oklahoma Range Facility, the company said on 25 August.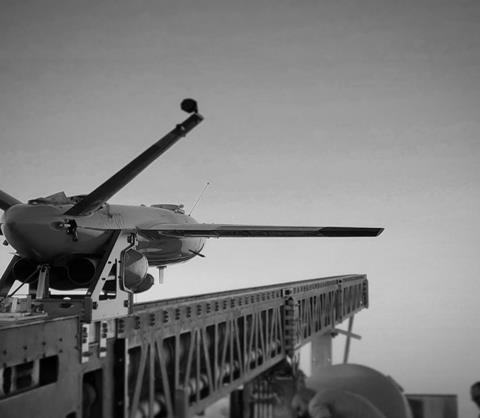 "The Kratos Air Wolf mission, which was the inaugural flight at the Burns Flat Range location, included multiple new payloads carried by the Air Wolf drone, including a proprietary Kratos artificial intelligence/autonomy system, which has been developed by Kratos specifically for high performance, jet drone aircraft," says Kratos.
Air Wolf is the latest in a series of attritable UAVs developed and flight tested by Kratos. Attritable drones are intended to be cheap enough to be lost in battle and then replaced without breaking the US treasury. Kratos is working on several other examples of the kind, including the UTAP-22 Mako and XQ-58A Valkyrie. It also provides the airframe for Dynetics' X-61A Gremlins.
Kratos has a long history in developing and building jet-powered target drones; UAVs that are designed to be eventually shot down for target practice. It has used that knowledge to design attritable UAVs, including the UTAP-22 Mako, which is based on the US Air Force's BQM-167A target drone. Air Wolf appears to be a variation of the MQM-178 Firejet target drone, though the company declines to provide additional details.
The MQM-178 is the smallest of Kratos's aerial targets, with a 3.3m (10.8ft) length and 1.9m wingspan. Because it takes off using a pneumatic rail launcher, instead of using rocket-assisted take-off equipment, the drone can be launched from land or from a ship, the company says. The UAV can fly at speeds up to 418kt (772km/h) at altitudes of up to 35,000ft.
The US Army is a customer for the MQ-178, using the target for tests of surface-to-air missile systems, such as the Raytheon Stinger and Patriot batteries. It is also used by the service for air-to-air target practice.
The MQ-178 is built within Kratos's manufacturing plant in Oklahoma City. The XQ-58A is built within the same facility.
The company says its access to Oklahoma's Burns Flat Range test range helped speed up the initial flight demonstration of the Air Wolf. US government-owned flight test ranges have limited capacity and various manufacturers have said that constraint has recently caused delays for their aircraft development programmes.
Kratos says its Air Wolf UAV was developed by its Ghost Works division, an advanced development arm of the company.