Kratos Defense & Security Solutions and General Atomics Aeronautical System each were awarded a contract to develop an Off Board Sensing Station unmanned air vehicle (UAV) for the US Air Force Research Laboratory (AFRL).
Such a UAV could be a loyal wingman to future manned fighter aircraft, searching for targets and threats using on-board sensors, such as radar and infrared-search-and-track sensors, and then possibly acting as a weapons launch platform. The Pentagon wants the companies to demonstrate that they can rapidly bring a UAV to market at a low acquisition cost.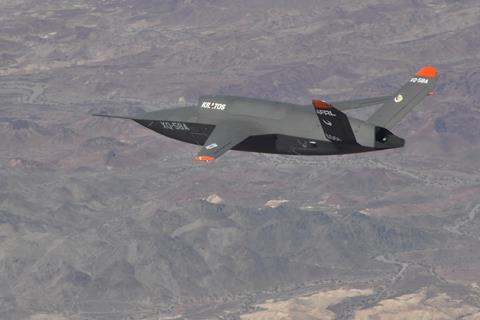 Kratos was awarded a $17.7 million contract, with a $31.4 million option for additional work, to design, develop, and flight demonstrate an open architecture Off Board Sensing Station aircraft, the Department of Defense (DoD) said on 25 October. General Atomics was awarded a $17.7 million contract, with a $31.7 million option for further work, to develop and demonstrate the same sort of aircraft, the DoD announced the following day.
Work is to be complete by 31 October 2022. If the option is exercised the effort could be extended until 2024. Kratos says the 15-month option is a "manufacture and demonstration period".
"The [Off Board Sensing Station] vehicle is intended to be an affordable, highly modular conventional take-off and landing jet-powered [UAV]," Kratos said on 26 October.
The company adds that its UAV "also will accommodate significant offensive weapons volume to also act as a weapons bay extension for manned aircraft".
Kratos calls the Off Board Sensing Station a new addition to its UAV portfolio. The company did not give other details of the unmanned aircraft's configuration, but it is possibly a variant of its XQ-58A Valkyrie with the addition of landing gear. The XQ-58A, as designed, uses rockets to launch and parachutes to land.
The Valkyrie was developed for the AFRL's related Low Cost Attritable Strike Demonstrator programme, an effort to build a UAV cheap enough to be called "attritable" – that is, an unmanned aircraft so inexpensive that it could be lost in combat and then affordably replaced. The XQ-58A has also been contracted by the AFRL for demonstrations of Skyborg, an open, modular system that enables UAVs to autonomously fly, navigate and communicate.
General Atomics' UAV was also not disclosed. The company has participated in the related Skyborg programme as well using its Avenger UAV. In July, it demonstrated the UAV autonomously tracking and following multiple aircraft targets using a Lockheed Martin Legion Pod infrared-search-and-track sensor payload.
The Legion Pod fed that target tracking information to the Avenger's software, which automatically prioritised the targets and then manoeuvred the UAV to a position "for target engagement", General Atomics said.