In a departure from the usual methods of military aircraft procurement, the Ukrainian armed forces will soon receive a new unmanned air vehicle (UAV) paid for directly by citizens.
In this case, the purchasers are not Ukrainians, but residents of the Baltic nation Lithuania. A grassroots fundraising campaign, commonly known as crowdfunding, raised $6.3 million (€5.9 million) to purchase a Turkish-made Baykar TB-2 Bayraktar combat UAV.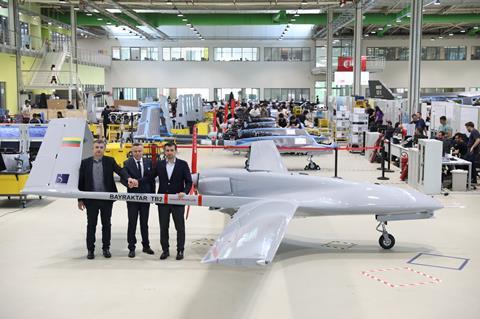 The Lithuanian Ministry of National Defence confirmed the acquisition of a Bayraktar on behalf of the effort on 2 June, sharing a photo of the aircraft in the Baykar production facility.
The Bayraktar has become a symbol of Ukraine's underdog resistance to the Russian invasion, even serving as inspiration for a popular folk song that has been circulating on social media.
Made by Turkish manufacturer Baykar, the TB-2 is a medium-altitude, long-endurance UAV that can be equipped with four air-to-ground missiles and onboard sensors. The low-cost Bayraktars have been used to great effect by Ukraine during the conflict, allegedly involved in destroying hundreds of tanks and armoured vehicles, several warships and serving as spotters for artillery targeting.
Notably, TB-2 development was spurred by American restrictions on the export of the USA's most-capable combat UAVs. The Mitchell Institute recently criticised that policy as ceding ground to foreign producers like Turkey and ultimately counter-productive to the USA's own geopolitical strategy.
The current military and pop culture significance of the TB-2 made it the target for bystanders seeking to aid Ukraine in its fight for sovereignty. Lithuanian television journalist Andrius Tapinas, with the backing of Lithuanian officials, launched the effort to crowdfund a TB-2 for Ukraine on 25 May, according to tweets from Lithuanian government agencies and officials promoting the campaign.

Tapinas tweeted that the crowdfunding campaign hit its $5.4 million goal less than a week later, on 30 May. Announcing the conclusion of the campaign on Twitter on 31 May, Tapinas writes that funds came from around the world, including from "Latvians, Estonians, Polish, Danish, Germans, French, Americans, Japanese, Swedes, Dutch, Canadians, Norwegians, Italians".
Here it is! Our 🇱🇹🇹🇷#Bayraktar for 🇺🇦Ukraine!#BayraktarForUkraine, for which Lithuanians raised almost 6 mln.€ in 3 days. pic.twitter.com/5LIZa62Kw1

— Lithuanian MOD (@Lithuanian_MoD) June 2, 2022
Although Tapinas provided funds, the actual purchase of the UAV was negotiated by Lithuanian defence officials, who flew to Turkey on 1 June. Following that trip, TB-2 manufacturer Baykar said on 2 June that it will now donate the UAV to Lithuania, for transfer to Ukraine.
The move is confirmed by Lithuanian defence minister Arvydas Anusauskas, also on Twitter, who says the donated funds will instead be used to arm the TB-2.