Martin UAV recently flight tested its V-BAT unmanned air vehicle (UAV) equipped with a "GPS-denied navigation" system – navigation technology that does not rely on GPS signals.
The company and Northrop Grumman have partnered to offer the tail-sitting V-BAT as a contender for the US Army's Future Tactical Unmanned Aircraft System (FTUAS) acquisition programme.
Unspecified "target designation capabilities" were also tested, Northrop said on 1 September.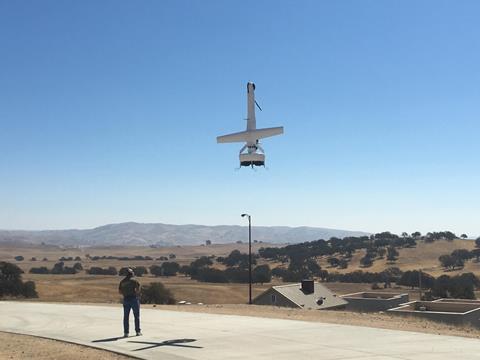 As part of its FTUAS programme, the service is testing four competing UAVs: the Arcturus Jump 20, L3Harris Unmanned Systems FVR-90, Martin UAV V-BAT and Textron Aerosonde Hybrid Quad.
The US Army wants FTUAS to replace its Textron RQ-7B Shadow, a tactical fixed-wing reconnaissance UAV that takes off using a rail launcher. The next-generation drone is to be used by US Army Brigade Combat Teams, special forces troops and Ranger battalions.
The service wants its future unmanned system to improve upon the RQ-7B in several areas. It should have automatic vertical take-off and landing capability, be quieter than its predecessor and fit within US Air Force 463-L pallets, which can be transported by Boeing CH-47 Chinook cargo helicopters.
The US Army wants to operate FTUAS at low to medium altitudes. It is to carry a variety of payloads, such as data links, electro-optical and infrared sensors, laser designators and laser range finders. "Designed with a modular open systems approach, FTUAS payloads will be easily interchangeable," says the US Army.
The UAVs should also have encrypted data links and ability to team with manned aircraft or to operate autonomously.
Martin UAV was recently acquired by Shield AI, a venture capital-backed start-up developing autonomy software. The company plans to enhance the V-BAT's GPS-denied and autonomous flight capabilities by using Shield AI's Hivemind, software designed to facilitate autonomy and UAV swarming.
Finding ways to fly in GPS-denied environments has become a priority for the US Army as sophisticated adversaries such as Russia and China have shown ability to jam or spoof GPS systems. How the V-BAT navigates in GPS-denied areas is unclear, but inertial navigation can be used. Inertial navigation systems use sensors – accelerometers, gyroscopes and magnetometers – to estimate position, velocity and heading.