A Boeing MQ-25A Stingray unmanned in-flight refuelling tanker was hoisted aboard an aircraft carrier for the first time this week to start initial deck handling tests.
Testing is being conducted aboard USS George HW Bush at Naval Station Norfolk, Virginia and will provide an early evaluation of how the MQ-25A operates on the deck of an aircraft carrier, the US Naval Air Systems Command (NAVAIR) said on 3 December.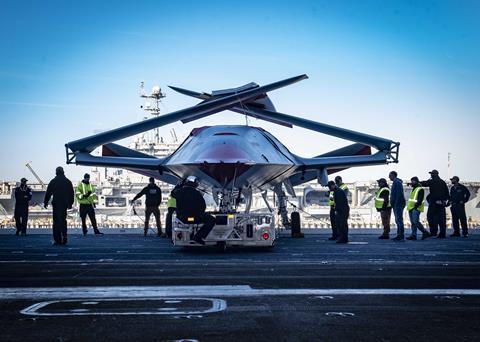 The USN has previously said moving the unmanned air vehicle (UAV) in the tight and busy spaces of an aircraft carrier deck would likely be the most challenging part of the MQ-25A programme. The USN and Boeing have conducted mock deck handling tests on land, but never aboard an aircraft carrier.
The service is using a Boeing-owned test example of the MQ-25A, dubbed T1, for the initial tests.
Tests "will involve T1 being driven around the flight deck while at sea to check its handling qualities, and the functionality and capabilities of the deck handling system", says NAVAIR. "This will include taxiing into and connecting to the catapult, clearing the landing area and various other manoeuvres."
The USN intends to have the MQ-25A refuel all carrier-based aircraft in its fleet that have a refuelling probe. So far, the UAV has been tested refuelling a Lockheed Martin F-35C stealth fighter, Boeing F/A-18 Super Hornet and a Northrop Grumman E-2D Advanced Hawkeye airborne early warning aircraft.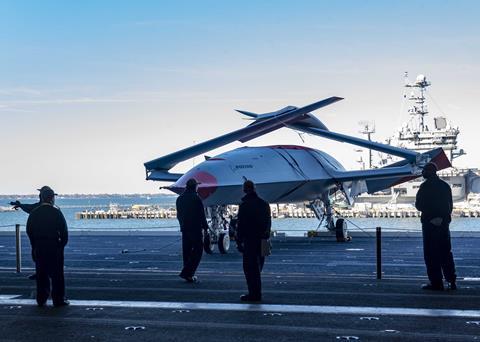 The service wants the unmanned in-flight refuelling tanker to extend the range of its aircraft, which would better enable it to operate carriers beyond the reach of adversaries' weapons. For example, the F-35C's 1,200nm (2,220km) range is seen as too short to strike targets within China or Russia without risking sailing a carrier too close to those adversaries' shores – potentially within reach of land-based anti-ship missiles and aircraft.
The USN has said it wants the MQ-25A to achieve initial operational capability by 2024. Boeing is lending the service a test example of the Stingray to speed along the type's path to deployment. The USN plans to buy as many as 76 examples of the aircraft as part of its programme of record.
The article was corrected on 6 December, changing the number of Boeing-owned test assets from two to one.