General Atomics Aeronautical Systems has integrated the Leonardo Sage 750 electronic emission sensor pod onto its MQ-9B SeaGuardian unmanned air vehicle (UAV).
The pod is designed to search for radar waves, for example, coming from radar-guided surface-to-air missile batteries on land sites or on ships, General Atomics said on 9 September.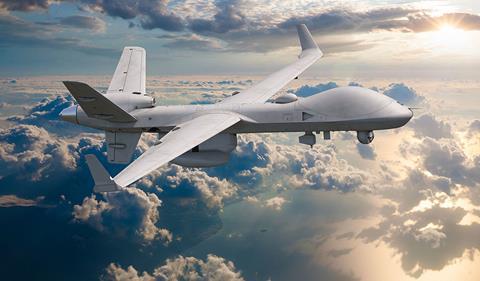 "This will be the first time that our aircraft has featured a fully-integrated, tactical [electronic support measure] capability," says Linden Blue, chief executive of General Atomics. "Sage [electronic support measure equipment] will improve our customer's ability to make tactical decisions and allow collection of [intelligence, surveillance and reconnaissance] data on selected emitters."
The system is able to pinpoint the source of radar emissions and identify the type of weapon system, adds Leonardo. Once it has detected a threat it can cue other sensors, jamming and electronic attack systems, the company says. The Sage 750 also records each emission detected so that militaries can further analyse the radar signature and build sovereign electronic warfare databases.
The SeaGuardian is based on the MQ-9B SkyGuardian, a newer variant of the MQ-9 Reaper used by the US Air Force that meets NATO military airworthiness requirements. General Atomics is also working with the US Federal Aviation Administration for the MQ-9B to meet civilian airworthiness requirements. Both efforts would allow the UAV to intermingle with civilian aircraft more easily, including over the USA and the EU.
General Atomics hopes that the MQ-9B SeaGuardian's ability to fly in and around civilian airspace, instead of being restricted to warzones, would make the UAV a candidate for tracking ships and submarines offshore. The UAV was demonstrated in such a role to European nations in Greece in December 2019 and in mid-September the manufacturer plans show the same maritime patrol abilities to Japan.