Lockheed Martin is proposing a range of unmanned air vehicle (UAV) options for the US Air Force's (USAF) MQ-Next development programme, including a type that the company calls "expendable".
MQ-Next is the USAF's replacement for the General Atomics MQ-9A Reaper armed reconnaissance UAV starting in 2030. The service issued a request for information about design ideas in June.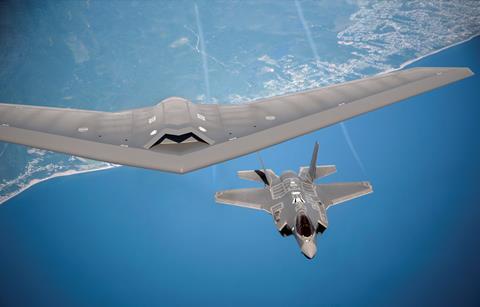 So far, Lockheed Martin, General Atomics and Northrop Grumman have proposed a family of systems to replace the turboprop UAV. All three companies have previewed renderings of sophisticated flying-wing UAV designs, while saying lower-cost drones would also be part of their offerings.
For its part, Lockheed Martin says its MQ-Next proposed family of systems will likely include an "expendable" aircraft. Northrop Grumman and General Atomics have offered few details about the lower-end systems that would be part of their proposals.
Recently, the USAF has emphasized attritable UAVs, drones cheap enough – between roughly $2 million to $20 million – to be lost to combat attrition. However, Lockheed Martin believes going even cheaper has value.
"Our operations analysis shows us when it comes to [UAVs], the optimum force structure consists of a mixture of very high-end, very highly capable vehicles, like the next-gen [UAV], but those also should be coupled with low cost, high-volume expendable systems, which are the vehicles that are bringing mass to the fight," says Jacob Johnson, intelligence, surveillance reconnaissance unmanned air systems director with Lockheed Martin Skunk Works.
Lockheed Martin believes it would be more economical to field a large number of expendable UAVs that cost less than $2 million apiece. "That's what really from an economic standpoint makes the most sense in a campaign," Johnson says.
The company declines to say if its expendable UAV would be better classified as a cruise missile or a disposable reconnaissance drone, noting it could provide either type of vehicle depending on the USAF's ultimate requirements.
"There could end up being a lot of similarities between something like an expendable [UAV] and the cruise missile," says Johnson. "I think of an expendable system being a very smart, capable system [that] maybe has some of its heritage based back in cruise missiles."
Notably, loitering munitions are a type of expendable UAV that does reconnaissance and self-destructive strike missions.
Lockheed Martin has few details to offer about its high-end UAV other than to note it's an evolution of the company's previous flying-wing aircraft, including the X-44 Multi-Axis No-Tail Aircraft, the high-altitude Polecat demonstrator, Unmanned Carrier-Launched Airborne Surveillance and Strike aircraft, and the RQ-170 Sentinel spy aircraft.
The company is offering a similar flying-wing UAV for Poland's Harpi Szpon (Harpy Claw) programme. Johnson says Lockheed Martin plans to use digital engineering, as well as technology and expertise from its previous aircraft, to quickly iterate and provide whatever the USAF or Warsaw wants in an armed reconnaissance UAV.
"While the requirements for both MQ-Next and Harpi Szpon in Poland are continuing to evolve, they may end up having some commonality, they may end up being completely unique requirements," he says.