NASA's X-56B unmanned air vehicle (UAV) was destroyed in a crash on 9 July after suffering an "anomaly in flight".
The small experimental aircraft was being used to test ways to suppress flutter, a form of uncontrollable vibration for which slim, flexible wings are vulnerable. Flutter can cause wings or tails to break off in certain aerodynamic conditions.
The UAV impacted the ground shortly after take off from NASA's Armstrong Flight Research Center in Edwards, California. The cause of the crash is not known, NASA said on 9 July.
"The investigation is underway and further details will be provided when available," Armstrong Flight Research Center says. No one was hurt, it adds.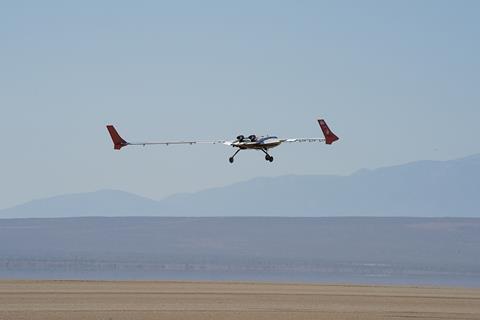 Controlling flutter is important to NASA because lightweight, high-aspect-ratio wings are seen as important for more fuel-efficient airliners and long-endurance military aircraft.
The X-56B had started a series of flight tests in April after its predecessor, the X-56A, concluded a six-year test run in 2019. The new blended-wing UAV uses the same centre body as the earlier X-56A, developed by Lockheed Martin, but different wings.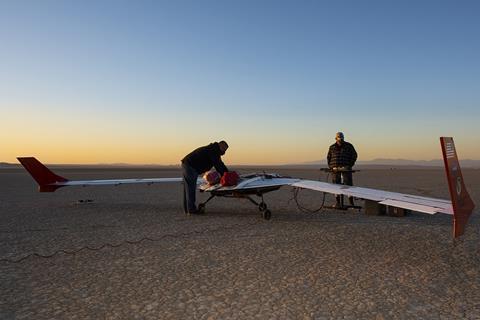 The US Air Force Research Laboratory is a partner in the X-56B programme.
The US Air Force (USAF) is interested in lightweight blended-wing and flying-wing aircraft designs because the shapes could enable long-endurance flight – a capability potentially valuable for missions such as those involving surveillance and long-range bombing. The blended-wing and flying-wing configurations also have less radar cross section than other designs, making them stealthier.
In 2020, Lockheed, Northrop Grumman and General Atomics Aeronautical Systems unveiled renderings of blended-wing and flying-wing UAV concepts for the USAF's MQ-Next programme, an acquisition competition to replace the General Atomics MQ-9A Reaper starting in 2030. The USAF wants a next-generation UAV with long endurance to conduct intelligence, surveillance and reconnaissance, plus strike missions.
Commercial airframers are also interested in lightweight, blended-wing aircraft for the purpose of improved efficiency.
"The [blended-wing] airframe merges efficient high-lift wings with a wide airfoil-shaped body, allowing the entire aircraft to generate lift and minimise drag," says a NASA fact sheet. "This shape helps to increase fuel economy and creates larger payload (cargo or passenger) areas in the centre body portion of the aircraft."
It is not clear how many examples of the X-56B NASA has available or when testing will resume.