NATO has declared initial operating capability (IOC) for its fleet of Northrop Grumman RQ-4D Phoenix unmanned air vehicles (UAVs).
IOC was declared by NATO's Supreme Allied Commander General Tod Wolters, the alliance announced on 15 February.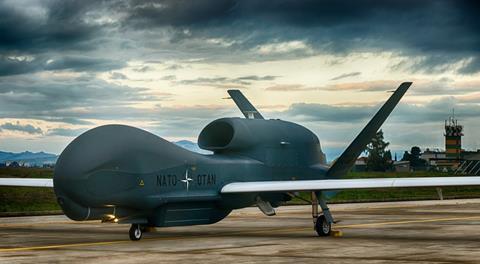 NATO has purchased and received five RQ-4D aircraft, in addition to ground control units and support equipment. The final UAV was received in November 2020.
NATO RQ-4D UAVs are based on the US Air Force's RQ-4 Block 40 Global Hawk. They are to share intelligence, surveillance and reconnaissance (ISR) information with all 30 members of the NATO alliance. The aircraft will be piloted remotely from Sigonella in Sicily, Italy.
The aircraft are NATO-owned and -operated, as opposed to being owned and operated by individual members of the alliance. NATO also owns and operates other aircraft, such as a fleet of Boeing E-3A Airborne Warning and Control System aircraft, Boeing C-17 Globemaster III strategic transports and Airbus Defence & Space A330 multi-role tanker transports.
"This unique, multinational capability, paired with a team of Allied specialists who process, evaluate, and distribute intelligence, provides NATO decision makers with timely and relevant information," says Major General Phillip Stewart, Strategic Employment Directorate commander with Supreme Headquarters Allied Powers Europe.
The RQ-4D can fly for more than 32h at up to 62,000ft. The UAV typically carries ISR sensors, such as electro-optical/infrared cameras and synthetic aperture radar for taking photos over a wide area of the ground.