Northrop Grumman has delivered to the US Navy (USN) the first production example of the IFC-4 Triton, an upgraded MQ-4C that includes signals intelligence payloads.
The unmanned air vehicle (UAV) was delivered on 1 February to Naval Air Station Patuxent River in Maryland, the company says on 2 February. Northrop Grumman builds the MQ-4C in Palmdale, California.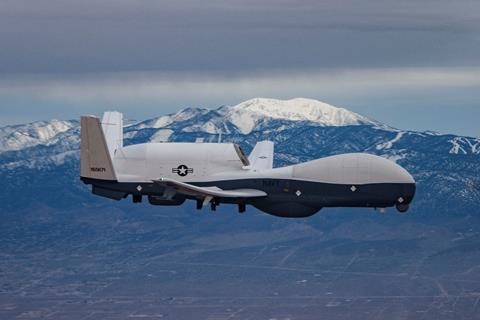 The USN is replacing its aging fleet of 16 Lockheed EP-3 Aries turboprop signal intelligence aircraft with the IFC-4 increment of the MQ-4C. The Aries is based on the Lockheed P-3 Orion maritime patrol aircraft. The UAV's sensors sniff out an adversary's electronic signals, and then its crew of 24 analyses and distributes its findings to the rest of the fleet.
Signals intelligence often involves the interception of communications or the detection of electronic emissions, such as radio waves from a radar system. Deciphering signals intelligence – and thus an enemy's plans and location – can give a military an edge in battle.
The MQ-4C has a much longer flight endurance and operating altitude compared to the manned EP-3. The UAV can fly for more than 24h, has an operational range of 8,200nm (15,200km) and at altitudes greater than 53,000ft.
In addition to its signals intelligence work, the IFC-4 can use its electro-optical infrared camera and radar to conduct maritime intelligence, surveillance and reconnaissance patrols, search and rescue and communications relay missions.
The MQ-4C is based on the US Air Force's RQ-4 Global Hawk. It has received enhancements for maritime operations, including a reinforced airframe for a greater internal payload and a stronger wing for hail, bird strike and gust load protection. It also has de-icing and lightning protection systems.
Though it typically operates at high altitudes, the UAV's robust build allows it to descend through corrosive maritime weather, closer to the ocean, where it can get a closer look at ships and submarines. The Triton works in coordination with the USN's Boeing P-8A Poseidon maritime patrol aircraft.