Northrop Grumman has flown Japan's RQ-4B Global Hawk unmanned air vehicle (UAV) for the first time.
The initial example of Tokyo's high-altitude UAV finished its first flight on 15 April at Northrop's Palmdale, California facility, the company said on 16 April. The RQ-4B and its maritime cousin, the MQ-4C Triton, are manufactured in Palmdale.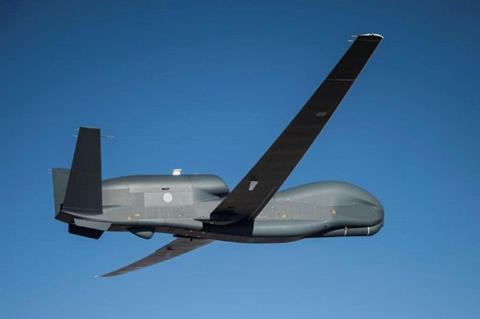 "The unarmed RQ-4B Global Hawk will provide Japan with on-demand intelligence, surveillance and reconnaissance (ISR) information supporting the Japan Air Self-Defense Force's missions of protecting borders, monitoring threats and providing humanitarian assistance in times of need," says Jane Bishop, vice-president and general manager of autonomous systems for Northrop Grumman.
Japan plans to buy three examples of the RQ-4 Block 30(I) UAV. A Foreign Military Sales programme deal for the ISR aircraft was approved by the US Department of State in 2015.
The US Air Force (USAF), NATO and South Korea are also customers for the RQ-4. The US Navy and Royal Australian Air Force are customers for the MQ-4.
The RQ-4 can fly at an altitude of up to 60,000ft and for more than 32h, according to Northrop. The aircraft has a range of more than 12,300nm (22,800km).
The UAV carries a synthetic aperture radar, which can be used in bad weather or at night to gather long-range imagery. The aircraft also carries a high-resolution electro-optical and infrared camera.
The USAF's EQ-4B variant carries the Battlefield Airborne Communications Node that allows it to act as a gateway for translating and distributing imagery, voice and tactical data between a variety of locations.