Northrop Grumman remains on the hunt for the first international sale of its MQ-8C Fire Scout unmanned maritime patrol helicopter, roughly two and a half years after the aircraft reached initial operational capability with the US Navy (USN).
The company declines to name potential customers, but says that the unmanned air vehicle (UAV) "is of interest to several nations".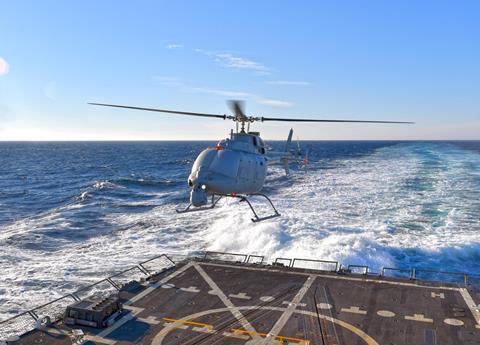 The Asia-Pacific – home to the world's two largest navies, the Chinese navy and the USN, as well as the world's largest ocean and more than half of the world's population – seems a likely place for the Fire Scout to land its first international sale.
Northrop believes the maritime patrol helicopter's anti-surface warfare capabilities make it particularly appealing to operators in the region. The UAV carries a Leonardo ZPY-8 Osprey lightweight active electronically scanned array radar that has a range of digital modes including weather detection and ground-moving target indication.
Northrop is also working to incorporate A- and G-sized sonobuoy deployment pods to the helicopter, which would give the UAV greater anti-submarine warfare capabilities.
"Both manned and unmanned [anti-submarine warfare] is a growing need around the world as threats to maritime security increase," says Lance Eischeid, director of the Fire Scout programme with Northrop.
The UAV is based on the commercial Bell 407 airframe with its seats and the avionics supporting manned operation stripped out and replaced with a remote control system and extra fuel tanks. The aircraft has a flight endurance of 12h, a maximum payload of 318kg (700lb) and a range of 150nm (278km).
Northrop is incrementally upgrading the capabilities of the MQ-8C, allowing the helicopter to take on more missions for the USN, including airborne sea mine countermeasures and cargo flights. The company says it has also tested the Fire Scout with an undisclosed offensive weapon, although the USN does not currently have a requirement for that type of payload.