Northrop Grumman put its optionally-piloted Firebird aircraft through 45h of total flight testing in April and is preparing for a 30h continuous, unmanned flight test by the end of this summer.
As part of the series of flights, Northrop is demonstrating the Firebird's ability to conduct a variety of intelligence, surveillance and reconnaissance missions. The company is also hoping to prove that its aircraft can be a low-cost, flexible multi-mission platform for a variety of civilian uses, such as surveying farms and oil pipelines.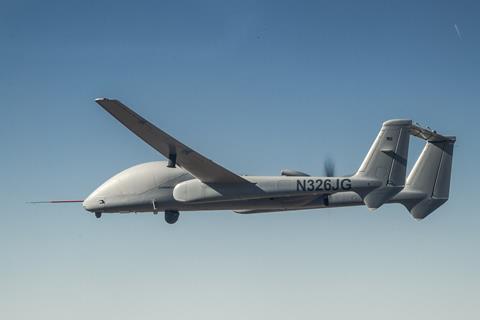 The Firebird can be flown as a long-endurance UAV or as a manned aircraft when a swappable cockpit is installed.
Northrop has two disclosed customers for the aircraft: Tenax Aerospace and Grand Sky Development. The airframer declines to disclose the numbers ordered. A deal to sign a third, international customer is close to closing, says Jon Haun, deputy director for the Firebird programme.
Signed customers, as well as prospective users the company is in conversation with, would prefer to fly the Firebird as a UAV to take advantage of its more than 30h flight endurance, says Haun. The manned configuration is preferred for moving the Firebird on beyond-line-of-sight flights through national airspace, which it cannot do in the unmanned configuration due to regulations.
"You can transfer from the beyond-line-of-sight configuration to the manned configuration in about four hours," Haun says. "And then, you can just file and fly. It's an [instrument flight rules]-rated airplane."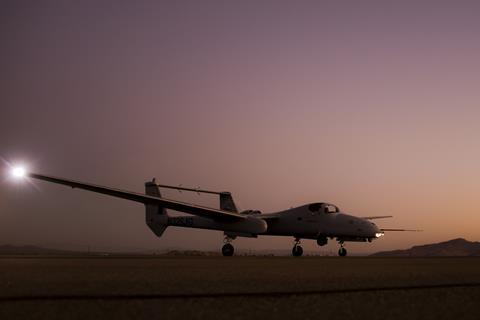 As part of demonstrations in April, Firebird flew four flights of 10h or more. The missions included wide-area surveillance, pattern of life monitoring, route clearance, search and rescue, high-value subject tracking, hostage recovery, and fire hotspot detection flights. The flights were flown over the course of four days in Mojave, California. The Firebird was flown in the manned configuration.
"We did the maintenance at night; we did the operations during the day," says Haun. "And we're able to do this with a small team of [five people]. That really plays into the broader affordability of the platform instead of having this fleet of people that you need to be able to maintain the system."
At Northern Plains UAS Test Site in North Dakota, Northrop plans to fly the Firebird in its UAV configuration sometime before the end of the summer. The company will attempt to demonstrate the ability to fly similar missions to what was demonstrated in the manned configuration in April, such as wide-area surveillance and pattern of life monitoring.
Northrop says that in addition to its two customers in the USA, it is eyeing selling the Firebird to prospective customers in South America, the Asia-Pacific Region and Africa.