Northrop Grumman has unveiled a new unmanned air vehicle (UAV) concept called the Model 437 that is aimed at the US Air Force's (USAF's) Skyborg programme and other international loyal wingman development efforts.
The Model 437 is based on the Model 401 Sierra, a low-cost manufacturing technology demonstrator aircraft which was developed by Scaled Composites, the manufacturer said on 8 September in Palmdale, California. Scaled Composites is a rapid development subsidiary of Northrop, based in nearby Mojave. It was founded by legendary aeronautical engineer Burt Rutan.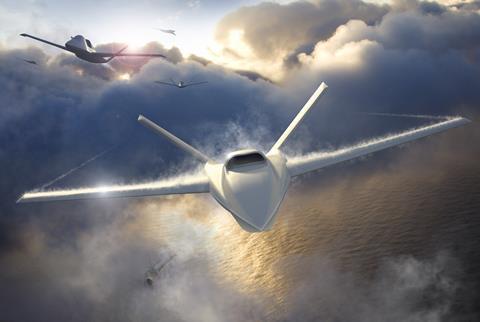 The UAV is to be "attritable", meaning it is built cheaply enough to be lost in combat and then affordably replaced. Skyborg is an effort to develop an autonomous, low-cost loyal wingman.
Northrop is also participating in the UK Royal Air Force's lightweight affordable novel combat aircraft (LANCA) programme. The company is a member of Team Mosquito, a group of companies led by Spirit AeroSystems Belfast that is developing a demonstrator. However, the company says its work on Team Mosquito is unrelated to the development and testing of the Model 401, despite similarities in appearance.
Two examples of the clean-sheet 401 have been built and flight tested over the past several years using "generous" funding from an undisclosed customer, says Cory Bird, Scaled Composites president. The entire Model 401, except for its tyres, was designed, built and flown by Scaled Composites in about 24 months, he says. The first example of the aircraft flew in 2017, followed by a second copy in 2018.
The Model 437 would be similar to the manned and unmanned variants of the Model 401, albeit larger and capable of carrying more payload and fuel. Its final configuration depends on the requirements of the Skyborg programme. With funding from the USAF, Northrop is proposing development of an unmanned version of the Model 401 that could be built in about 14 months and then test flown to advance the Model 437 concept.
Northrop says it has studied how the Model 401 could carry a variety of payloads, such as side-looking radar and two Raytheon AIM-120 air-to-air missiles in an internal bomb bay. It has 2.67cb m (80cb ft) of internal payload space and can carry up to 907kg (2,000lb) of payload.
"Both Model 401 and the Model 437 feature large internal payload volumes including the nose, leading edges, wing-tips, and tail-tips," says Northrop. "Both vehicles are also capable of [carrying] external stores on the centreline and on the wings."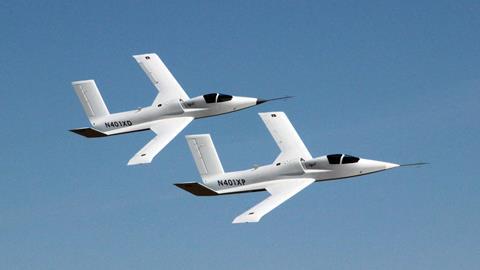 The Model 401 aircraft is powered by a single Pratt & Whitney JTD-15D-5 turbine that generates 2,960lb (13.2kN) of thrust, enough for a cruise speed of 400kt (740km/h). The aircraft carries about 907kg of fuel, which gives it an endurance of about 4h. Its maximum take-off weight is 3,630kg.
On the single-seat Model 401 the cockpit is unpressurised, allowing it to only operate at altitudes up to 25,000ft. The operating ceiling of a derivative Model 437 was not disclosed.
Wingspan on the Model 401 is 11.6m (38ft) and it is 11.6m long. Its airframe is primarily made of bonded composites. Its shape is stealthy, with a V-tail and engine air intake obscured on its back. Bird declines to discuss the aircraft's radar cross section.
LOW-COST MANUFACTURING
Scaled Composites has for most of its history been focused on rapidly prototyping, designing, building and flying new aircraft. It has on average developed and flown one new aircraft per year for the past 39 years, including the Voyager, the first aircraft to fly around the world without stopping, and SpaceShipOne, the first privately developed and flown spaceship.
With the Model 437, the company, alonside parent Northrop, sees an opportunity to go beyond development into production, perhaps manufacturing several hundred examples of the low-cost aircraft.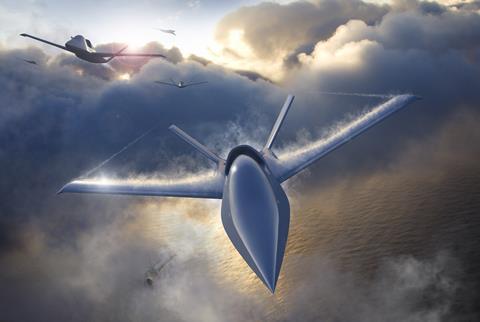 The unmanned Model 401 is intended initially as a demonstrator, but Northrop is open to making a production version of that aircraft as well if desired by a customer. It could be used for intelligence, surveillance and reconnaissance (ISR), as well as high-value asset protection.
"The unmanned 401 concept includes the option to enhance the main payload bay, enabling carriage of air-to-air weapons," says the manufacturer.
Northrop is aiming for a unit price for the Model 437 of $5-6 million. The bulk of that cost would come from a more powerful Williams International FJ44-4A turbofan, which the firm says is priced around $2.4 million. The USAF considers aircraft priced between $2-20 million to be attritable.
A more powerful – and more expensive – engine is necessary to achieve the USAF's goal of having a UAV with a 2,600nm (4,830km) range and a 533kt cruise speed. That ought to allow the Model 437 to keep pace with the Lockheed Martin F-35 stealth fighter. The USAF envisions that the manned combat aircraft will play a role in the future commanding and controlling loyal wingman UAVs.
Bird says the Model 437 would have a dash speed of 567kt, enabling it to sprint ahead of manned combat aircraft to probe enemy airspace as a forward sensor. The 437 also might act as a missile "carriage extension" for its manned wingman.
The wings on the Model 437 are removable. That could allow higher aspect ratio wings to be installed for longer endurance flights, perhaps for ISR missions, says Northrop.
Northrop envisions that the Model 437 will have landing gear. This differs from rival Kratos Defense and Security Solutions' XQ-58A Valkyrie, a UAV that uses rockets and a rail launcher to take off, and a parachute to land. By operating without need of a runway, Kratos claims that its aircraft could be scattered in difficult-to-find locations, even hidden within shipping containers.
The Model 437 will be able to take off from a 914m-long, 15m-wide runway or straight section of road. Northrop notes there is no shortage of straight roadway across the world, so the Model 437 ought to have plenty of unpredictable places to launch from.