Northrop Grumman plans to pitch the US Army on an air-launched effect variant of the UVision Hero family of loitering munitions.
The air-launched effect, called Hero ALE, is intended for use with the service's Future Vertical Lift (FVL) aircraft, including its next-generation utility and scouting rotorcraft. The US Army is pushing development of air-launched effects as a sort of general-purpose drone that could carry reconnaissance, electronic warfare or loitering munition payloads.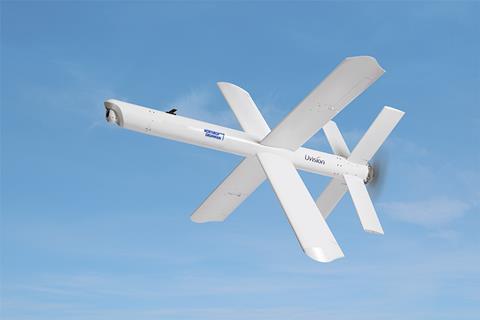 Though UVision Air is based in Israel, its subsidiary UVision USA would manufacture the Hero ALE in the USA. Northrop Grumann said it might eventually integrate its own sensor systems, communications devices and warheads into the loitering munition. It did not respond to how it would be initially involved in the offering to the US Army.
The Hero ALE is based on the UVision Hero-400EC, an electric-powered loitering munition, though it also incorporates components from the smaller Hero-120. The air-launched effect weighs about 36kg (80lb) and is 2.03m (6ft 6in) in length with a wingspan of about 5m. It can be launched from the four-rail M299 and two-rail M310 launchers found on modern attack helicopters.
The weapon is designed to be compatible with the Boeing AH-64 Apache, the General Atomics Aeronautical Systems MQ-1C Gray Eagle unmanned air vehicle, Future Long Range Assault Aircraft and Future Attack and Reconnaissance Aircraft. Northrop is scheduled to demonstrate the air-launched effect for the first time this September, says Bill Eledge, the company's senior programme manager of loitering munitions programmes.
The Hero ALE launches using a rocket-boosted assisted deployment, he says.
"We can launch from varying altitudes. It is dependent on the rotor wash from the aircraft," Eledge says. "[However], taking the rotor wash out of the equation, the rocket-booster assist will have the vehicle leave the aircraft at about 100ft per second, which gets it out of the rotor wash [area] almost immediately. And in that time, we get a drop of about 10ft."
Eledge declines to say the lowest altitude from which the Hero ALE can launch, citing sensitivities around US Army concepts of operation. The lower to the ground a rotorcraft can deploy an air-launched effect, the less likely the aircraft is to be spotted by an adversary's radar. In 2020, the US Army demonstrated a Sikorsky UH-60 Black Hawk launching an Area-I Altius drone from just 100ft above the ground.
Northrop is also developing a radio frequency payload for the Hero ALE to meet two US Army requirements: a detect, identify, locate and report capability, and a decoy capability. The company says its payload ought to provide electronic support measures, electronic attack and anti-radiation homing abilities to the Hero ALE.
Update: The article was changed on 15 March to reflect that Northrop Grumman now says it will not manufacture the Hero ALE.