Ahead of a likely ban on the US federal government's use of Chinese-made quadcopters, including popular DJI drones, the Department of Defense (DoD) has approved the products of five US-based unmanned air vehicle (UAV) makers for government use.
Those companies are Altavian, Parrot, Skydio, Teal and Vantage Robotics.
Small UAVs from these manufacturers have been deemed cyber-secure by the Pentagon – not vulnerable to backdoor spying that some suspect might be possible from the video cameras and other sensors attached to Chinese-made DJI drones. The US Congress is considering banning the US federal government from using foreign-made drones as part of its 2021 National Defense Authorization Act.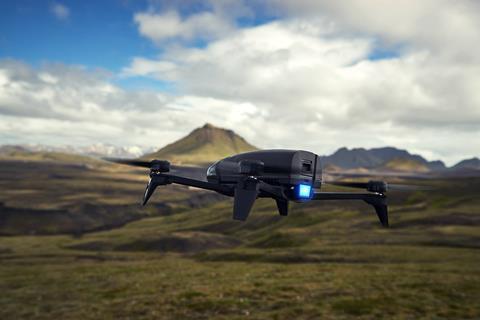 Drones that have been approved as part of the "Blue Small Unmanned Aircraft Systems" (Blue sUAS) programme will be listed on the General Services Administration Schedules, a sort of government product menu with standard prices that is underpinned by long-term contracts with commercial companies.
Suppliers will be able to update their product offering with accessories when available. Government customers can start buying from the programme starting in September.
Blue sUAS is the byproduct of a US Army effort to buy small, rucksack-carried drones for tactical scouting, an effort called the Short Range Reconnaissance (SRR) programme.
"This spinoff effort builds upon the army's initial success and offers [UAVs] that mirror the air vehicle and software architecture of SRR, but provides alternative ground controller and radio configurations to accommodate a variety of users across the federal government," says the Pentagon.
In addition to cybersecurity considerations, drones approved as part of the Blue sUAS programme will have range of at least 1.6nm (3km) and 30min or more of flying time. The UAVs should be able to fly through rain and dust. A person should be able to assemble the drone in 2min or less, and it ought to have a weight of under 1.36kg (3lb) on take off. The UAVs are required to have high-resolution day and night optics and thermal imaging capabilities. The drone is to be built with open-source protocol architecture and have a simple integration with ground controllers, says the Pentagon's Defense Innovation Unit.
The US government, including the Department of Defense (DoD), Department of the Interior and Department of Homeland Security, has stated on numerous occasions its need for vertical take-off and landing small UAVs to accomplish a number of tasks, such as surveying land or providing border security. The most obvious choice for many of those uses are DJI quadcopters, which can be the least expensive as well as highest performing drones on the market.
However, suspicious that the Chinese government could use its power over DJI to vacuum up data, including video footage being gathered with the USA by the drones, opposition to the foreign-made UAVs has grown in recent years. So too has a call for American-made alternatives.
"We looked at the fact that basically DJI from China had decimated our industrial base for small UAVs, quadcopters and so forth, through pricing that was sub-cost and so forth," says Ellen Lord, the DoD's undersecretary of defense for acquisition and sustainment. "So, what we wanted to do was come up with government standards that clearly indicated what was acceptable in terms of design and performance to meet department needs."
The Pentagon hopes that by laying out specifications it can jump start the US drone manufacturing industry.
"We've come up with that blueprint, if you will… and now we have a series of companies that can produce this so that we, at the DoD and hopefully more broadly commercially, can support our domestic industrial base," says Lord.