Raytheon has conducted a flight test during which a human operator controlled three autonomous unmanned air vehicles (UAVs) simultaneously using manned-unmanned teaming software.
The software is intended to allow manned combat aircraft to coordinate with multiple "loyal wingman" UAVs at once, the company said on 29 September. Loyal wingman platforms are a type of unmanned combat aircraft intended to accompany manned aircraft, such as fighters, to help carry out missions.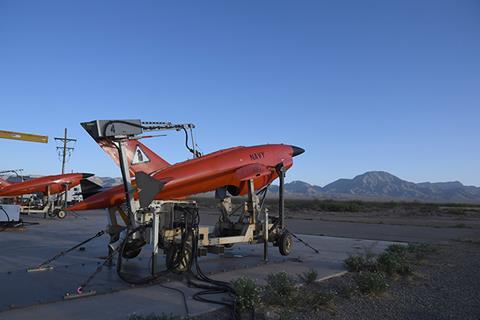 Raytheon does not specify which UAVs were used to demonstrate the software, or where the flights took place.
However, a picture released by the company suggests the test may have taken place at White Sands Missile Range in New Mexico, and that US Navy BQM-34S aerial target drones may have been used. Raytheon did not immediately respond to a request for comment.
The demonstration was a collaboration between Raytheon and the US Department of Defense's Strategic Capabilities Office, the company says. The test parallels a similar Air Force Research Laboratory effort, dubbed Skyborg, to develop autonomous flight and mission-control software for loyal wingman aircraft.
Raytheon says the human controlling the UAVs during the test had a "supervising" role.
"The human operator set a mission objective for the unmanned aircraft and then supervised conduct of the mission", the company says. "The unmanned aircraft then collaboratively developed and executed the necessary tactics to fulfil the mission."
Raytheon says the flight demonstration was carried out in an "operationally representative environment", though it does not elaborate. The drone collected simulated sensor data – information akin to data manned fighters might use in combat, it says.
The core architecture of the manned-unmanned teaming software has been in development for 10 years. Additional autonomous capabilities are continually being added to the programme's capabilities. The software also comes with a development kit allowing third parties to upload their own autonomous behaviours, Raytheon says.
The software has been tested at multiple military test ranges, the company says. Further flight testing to help mature the technology is planned, it says.