After holding steady at a few instances per year, the number of suspected or confirmed downings of unmanned air vehicles (UAVs) grew to 14 examples in 2019 and surged to 24 in the first six months of this year.
Highlighting a rising trend, episodes last year accounted for 61% of downings over the past five years, according to UAV crash data gathered by Drone Wars UK, an Oxford-based non-governmental organisation whose long-term goal is to realise an international ban on the use of armed drones, and supplemented with reporting by FlightGlobal. The crashes almost entirely appear over the Middle East, in particular active conflict zones in Libya, Syria and Yemen.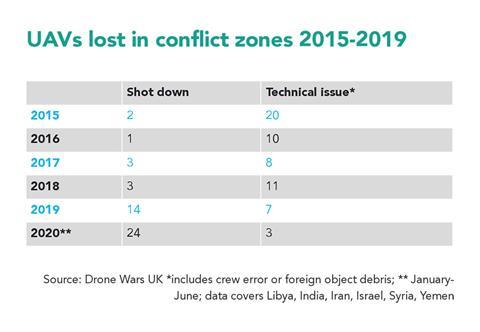 The UAV crash data discussed here was sourced from official government accident reports, plus news articles and social media posts that featured pictures or videos of crashed aircraft. Because governments are reluctant to confirm successful downings, and since some combatants are eager to claim credit for crashes whatever their cause, the true number of UAVs brought down is difficult to know.
Nonetheless, there appears to be a clear trend. Increases in suspected or confirmed downings of UAVs coincide with the growing use of unmanned aircraft in the Middle East. The crashes also coincide with the proliferation of surface-to-air missiles in the region.
No air force can operate with impunity. "In Libya, Russian private military companies almost certainly downed a US unarmed, unmanned aircraft in November using a sophisticated Russian air-defence system," said US Army General Stephen Townsend, commander of US Africa Command, in written testimony to the US House of Representatives Armed Services Committee in March 2020.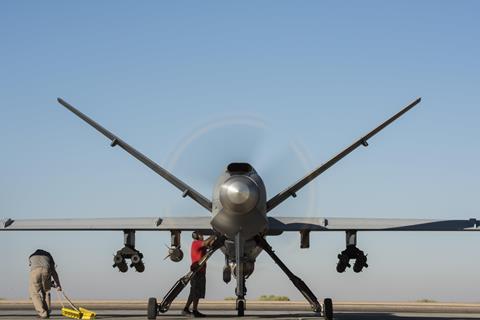 That UAV was a US Air Force (USAF) General Atomics Aeronautical Systems MQ-9 Reaper. It was likely shot down by a Russian-made Pantsir-S1 surface-to-air missile and gun battery, said USAF General Jeffrey Harrigian, commander of US Air Forces Africa, in February 2020.
During a Mitchell Institute press briefing on 29 June, Harrigian explained that the USAF had become too comfortable flying the MQ-9 over terrorists and insurgents that had no means to shoot it down: "Over time we developed some [tactics, techniques and procedures] that were probably a bit too predictable."
In response, the service is changing the way it flies the MQ-9. Harrigian wants the UAV's flight path to be more "unpredictable" and remote pilots better informed about where potential threats are located. That may mean being more selective about deployment, and better balancing the value of intelligence against the risk of collecting it.
The increase in the number of shoot-downs last year is already having an impact on the UAV manufacturing industry. General Atomics says it is developing the first self-protection pod purpose-built for its UAVs as part of a Cooperative Research and Development Agreement with the US Special Operations Command. The countermeasure device would be compatible with the MQ-9 and the US Army's MQ-1C Gray Eagle, according to a source familiar with the effort.
"Upon completion of the initial prototype and aircraft compatibility testing, Special Operations Forces will evaluate the system's efficacy in detecting and defeating various threats," says General Atomics. "The self-protection pod is comprised of a full-complement of mature, fielded aircraft survivability equipment, which will provide full-spectrum protection for the aircraft." Full-spectrum protection would include infrared countermeasures to confuse heat-seeking missiles or jamming to make it difficult for a missile to be radar guided to its target.
The development of a UAV countermeasures pod comes as the US Department of Defense is worried that its larger UAVs are vulnerable to integrated anti-aircraft defences fielded by China and Russia.
The USAF plans to make its last purchase of the MQ-9 in fiscal year 2020, according to its FY2021 budget request. In light of Iran's shooting down a Northrop Grumman RQ-4 Global Hawk in June 2019, the service also wants to retire 21 of its 31 examples of that type, particularly older Block 20 and Block 30 variants.
And, the USAF on 3 June launched its search for a UAV to replace the MQ-9 starting in 2030.
NEW PLAYERS
For many years, UAVs capable of armed intelligence, surveillance and reconnaissance were predominately operated by three countries: the USA, Israel and the UK, says Drone Wars director Chris Cole. "But we think there are now at least 15 nations operating these systems," he says.
In the Middle East, China and Turkey are two of the most prominent suppliers. The UAVs produced by these countries are significantly less expensive than those made in the USA. As such, operators of Chinese and Turkish-made aircraft seem more willing to use them assertively.
"Turkey has certainly become almost a superpower, using them not only within its own borders, but also in Syria, and in Libya, and in Iraq as well," says Cole.
In fact, Turkish UAVs are increasingly showing up as burning heaps on different battlefields.
Data shows at least 14 Turkish-built unmanned aircraft have been brought down by hostile action since the beginning of 2020. A dozen of those Turkish UAVs shot down were the Baykar Bayraktar.
The most commonly used variant of the Bayraktar appears to be the TB2. Ankara has flown that UAV more than 200,000h since its introduction in 2014. And, manufacturer Baykar says it has delivered 110 examples of the TB2 to the Turkish armed forces.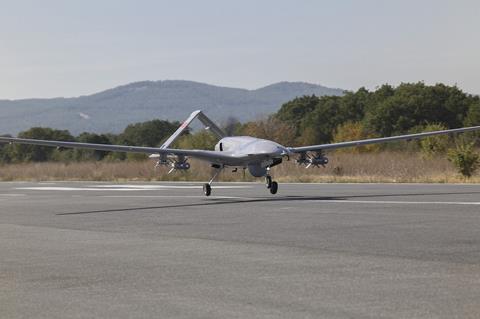 The TB2 has a payload of 150kg (331lb) and can carry up to four small laser-guided munitions under its wings. Flight endurance is up to 27h, and operational ceiling is 27,000ft.
However, the UAV is not out of the reach of the Russian-made Pantsir-S1, which is apparently to blame for many of the Bayraktar TB2 downings over Libya in 2020. In the Libyan civil war, Russian-backed mercenaries are operating several Pantsir-S1 systems in support of the Libyan National Army, while Turkey is using its armed UAVs to support the internationally recognised Government of National Accord (GNA).
A Pantsir S-1 system can hit an aircraft at a maximum range of 10.8nm (20km) and altitude of 32,800ft, according to the Center for Strategic and International Studies. Its pair of 30mm cannons can hit an aircraft 2.2nm away at an altitude of about 10,000ft.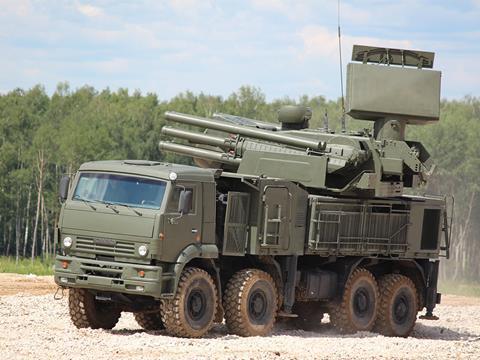 It should be no problem for a Pantsir – or a number of other short-range air-defence systems – to hit a UAV, says Riki Ellison, founder of the Missile Defense Advocacy Alliance. "Those drones are very slow, and easy to target once you see them," he says.
In addition to the Bayraktar TB2s, nine Chinese-built UAVs, mostly Wing-Loong IIs made by China's Chengdu Aircraft Industry Group, are suspected or confirmed to have been shot down in Libya in 2020, according to the data. The United Arab Emirates had been operating Wing-Loong IIs in support of the GNA.
Similar scenarios are playing out in Syria and Yemen, where surface-to-air missiles supplied by Iran and Russia have claimed a significant number of downings.
With surface-to-air missiles claiming many UAVs, it is no surprise that they have increasingly drawn heavy fire, with reports claiming around two dozen Pantsir-S1 units destroyed recently by retaliatory airstrikes. But UAVs are vulnerable to many types of attacks, says Dan Gettinger, founder of the Center for the Study of the Drone at Bard College in New York. As an example, he cites the growing use of electronic warfare to bring down UAVs.
Ultimately, one lesson from the Middle East might be that UAVs should no longer be viewed as precious aircraft of an elite few. "I often think of Turkey as an example of what the next group of drone operating countries is going to look like. They've built their own industry and they rely on drones quite a lot," Gettinger says. "I think the aggressive use of drones instead of manned aircraft in geopolitically sensitive and risky areas is probably what we're going to see more of in future."
How surface-to-air missiles are changing the UAV industry
1

2

3

Currently reading

Record number of UAV shoot downs prompt new USAF tactics and countermeasure pod