The UK Royal Air Force (RAF) plans to buy 13 additional Protector RG1 unmanned air vehicles (UAVs) from General Atomics Aeronautical Systems.
The UK Ministry of Defence (MoD) exercised its option to buy the aircraft as part of a prior contract from 2020 in which the RAF bought three examples of the UAV, General Atomics said on 22 July. The 13 additional Protectors, as well as four additional ground control stations and associated support equipment, are worth £195 million ($271 million).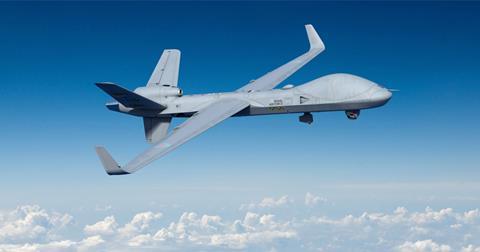 "Our fleet of 16 Protector aircraft equipped with ultra-modern technology will provide the Royal Air Force with a vast global reach allowing us to monitor and protect the battlespace for hours on end," says Jeremy Quin, UK minister for defence procurement. "The Protector programme involves industry across the UK, with vital parts of the aircraft manufactured on the Isle of Wight, supporting highly-skilled jobs for years to come."
GKN Aerospace is manufacturing composite V-tails for the Protector at its facility in Cowes on the Isle of Wight.
The Protector is based on the MQ-9B, an upgraded version of the MQ-9A Reaper that is predominately operated by the US Air Force. The Protector will have X-band satellite communications and support for UK weapon systems, including the MBDA Brimstone 3 air-to-surface missile. The UAV will also have an electro-optical sensor ball and Lynx multi-mode radar.
The Protector has a flight endurance of 40h, compared to 27h for its predecessor, the MQ-9A. It is also capable of automatically landing and taking off.
The first Protector is scheduled to be delivered to the MoD later in 2021, but will remain in the USA to finish the RAF's test and evaluation programme before moving to its UK home base in 2022. The UAVs will be operated from RAF Waddington in Lincolnshire.
The RAF aims for the type to enter service in mid-2024. The service plans to use its Protectors for intelligence, surveillance, targeting and reconnaissance operations.