General Atomics Aeronautical Systems completed the first flight of the Royal Air Force's (RAF's) Protector RG1 unmanned air vehicle (UAV) on 25 September.
The first example of the Protector, known as UK1, will be used by the UK Ministry of Defence, US Air Force and General Atomics to support testing for aircraft certification, the airframer said on 28 September.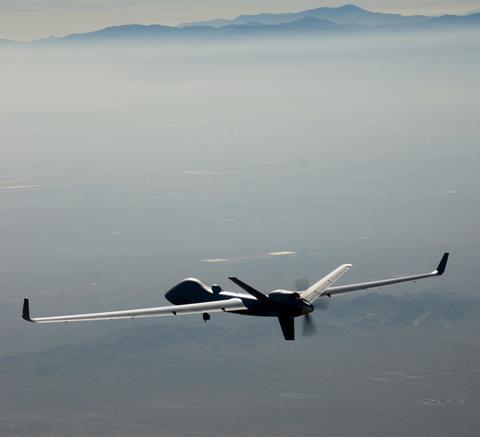 The Protector is the British variant of the MQ-9B SkyGuardian. London plans to buy 16 examples of the UAV to replace the RAF's current fleet of MQ-9A Reapers.
After finishing initial testing, the Protector will be formally delivered to the UK Ministry of Defence in the summer of 2021. Despite formal receipt, the RAF plans to keep the UAV in the USA to complete the test and evaluation programme.
The MQ-9B is also available in a maritime patrol variant known as SeaGuardian, which is equipped with a multi-mode 360° field-of-regard maritime-patrol radar and can be outfitted with sonobuoys. General Atomics has already built three other company-owned examples of the MQ-9B to support flight testing of the type.
General Atomics is pushing to sell MQ-9Bs to NATO-member nations. So far, the only other NATO customer for the UAV is Belgium, which has ordered four examples of the SkyGuardian.
MQ-9Bs are designed to meet NATO airworthiness type-certification standard STANAG 4671, which would enable the UAV to fly in NATO member countries' civil airspace. Such permission would allow the aircraft to fly border patrol, fire detection and firefighting support, maritime patrol, and resource monitoring missions, says General Atomics.
"Given that it is designed to fly in non-segregated, civil airspace, the Protector will be able to respond rapidly and offer flexibility, delivering many types of military- or civil-authority support missions, including search and rescue," says Group Captain Shaun Gee, the RAF's director of air intelligence, surveillance, target acquisition and reconnaissance programmes.