Moscow has ordered United Aircraft (UAC) to speed up deliveries of its S-70 Okhotnik "Hunter" unmanned air vehicle (UAV) to 2024.
The stealthy, flying-wing UAV was to be initially delivered in 2025.
The accelerated delivery schedule was acknowledged publicly for the first time when Russian President Vladimir Putin met with UAC chief executive Yuri Slyusar for an update on the company's product development plans on 3 August.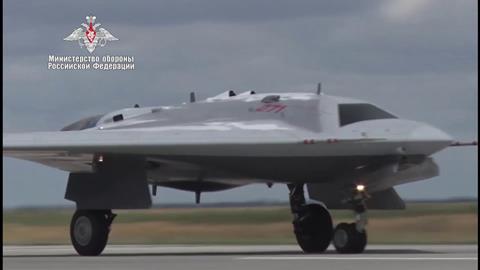 "We received an assignment from the defence ministry to speed up the experimental design work and maximally adjust the schedule in order to begin the deliveries already from 2024," Slyusar told Putin, according to state-run media outlet TASS. "That is why we are actively working with colleagues on this issue."
Designed by UAC subsidiary Sukhoi, the S-70 prototype first took off in August 2019. The UAV is designed to carry a payload of 6,000kg (13,200lb), have a flight range of 3,240nm (6,000km) and an operating ceiling of 59,000ft, according to Russian news agency Interfax. The aircraft is capable of carrying air-to-air missiles and reconnaissance equipment, according to TASS.
The S-70 is "our heavy attack drone with unprecedented capabilities, having the largest combat radius, the widest range of weapons, the widest range of equipment," says Slyusar, according to a transcript released by the Kremlin and translated. "[UAVs] of this class are only designed and manufactured by two countries: the USA and China."
The S-70 is similar in appearance to flying-wing UAVs built by several nations, including China's Sharp Sword, France's Dassault Neuron, the UK's BAE Systems Taranis and the USA's Northrop Grumman X-47B. The flying wing shape inherently has a lower radar cross section, although Russia says its jet is also coated in radar absorbent paint.