A second General Atomics Aeronautical Systems Avenger Extended Range (ER) unmanned air vehicle (UAV) has received an Experimental Certificate from the Federal Aviation Administration.
The certificate will allow the company-owned aircraft to operate within the US National Airspace System, the company said on 3 March. The first Avenger ER received an FAA Experimental Certificate in 2016.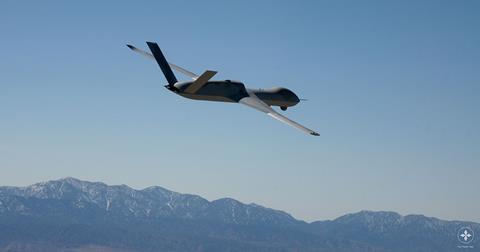 The Avenger UAVs have been produced in limited numbers since first flight in 2009. The turbofan-powered unmanned aircraft, also called Predator C, uses avionics based on those in the MQ-9 Reaper. In recent months, General Atomics has announced deals with the US government to use Avengers as testbeds for various autonomy technologies. The manufacturer is also using the aircraft for internal research and development efforts, it says.
The ability to fly within the US National Airspace System ought to allow the Avengers to test technology over longer ranges.
"Since 2005, [General Atomics] has worked closely with the FAA to affirm the special airworthiness certification of [UAVs], promoting their integration into the National Airspace System," says Pete Latta, General Atomics' senior director of quick-action programmes. "This [Experimental Certificate] will also help [General Atomics] employ the latest configuration of the Avenger ER for customer payload testing and company investments in advanced [UAV] control technologies."
In January, General Atomics announced it had received a contract from the US Air Force to modify two of its Avengers with Skyborg, a software programme intended to autonomously control multiple UAVs simultaneously in coordination with manned aircraft. Those modifications were to include upgraded data links, the core Skyborg system design agent software, and other undisclosed payloads.
"These Avengers will then be used as part of various experimentation events in 2021 and 2022, which will enable manned aircraft to control Avengers while in flight and relay specific information between the manned and unmanned aircraft," the company said at the time.
The UAVs are also being used as testbeds by the US Defense Advanced Research Projects Agency (DARPA).
General Atomics said last December that DARPA's Collaborative Operations in Denied Environment (CODE) software program was used in a demonstration to manoeuvre an Avenger for more than 2h without traditional pilot input. Similar in some ways to Skyborg, CODE is intended to allow one human to supervise multiple autonomous UAVs while the unmanned aircraft semi-independently find and attack targets.