The Republic of Singapore Air Force (RSAF) has acquired an unspecified number of Orbiter 4 unmanned air vehicles (UAVs) from Israeli firm Aeronautics.
"We have acquired the Orbiter 4 Close-Range Unmanned Aerial Vehicle (CR-UAV) to further enhance the Singapore Armed Forces (SAF) air intelligence, surveillance and reconnaissance [ISR] capabilities," the RSAF says on Facebook.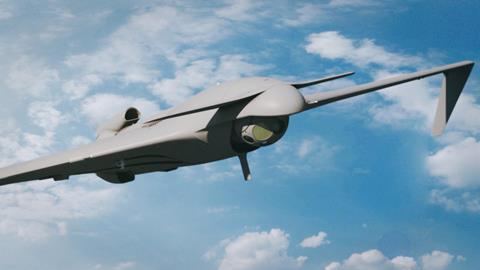 "The Orbiter 4 CR-UAV, which complements the RSAF's existing fleet of UAVs, will provide the SAF and security forces with improved ground situational awareness to better protect Singapore from threats across peacetime to wartime operations."
The RSAF did not provide the number of examples acquired, or the value of the deal.
According to Aeronautics, the Orbiter 4 system, which can be launched from a vehicle or ship, has a wingspan of 5.4m (17.7ft), a maximum take-off weight of 50kg (110lb), and a payload of 12kg. It features 24h endurance and has a line-of-sight datalink effective up to 81nm (150km).
The Oribter 4 can carry two payloads simultaneously. Payloads can include ISR systems, synthetic aperture radar, and a maritime patrol radar.
The RSAF is a great proponent of UAVs and has a dedicated Unmanned Aerial Vehicle command. In March 2017, its Israel Aerospace Industries Heron UAV achieved full operational capability.