The US Air Force's (USAF's) Skyborg autonomy core system flew for the first time aboard a Kratos UTAP-22 Mako tactical unmanned vehicle (UAV) at Tyndall AFB in Florida.
During a 2h 10min flight test on 29 April, the Skyborg system demonstrated several "foundational behaviours" necessary to characterise safe operation of the autonomous system, the USAF said on 5 May.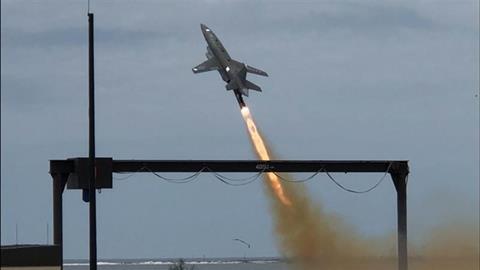 "The [autonomy core system] demonstrated basic aviation capabilities and responded to navigational commands, while reacting to geo-fences, adhering to aircraft flight envelopes, and demonstrating coordinated manoeuvring," says the service. "It was monitored from both airborne and ground command and control stations."
The USAF calls the first flight "Milestone 1", part of the ongoing "Autonomous Attritable Aircraft Experimentation" campaign that will take place over the next several months.
"We're extremely excited for the successful flight of an early version of the "brain" of the Skyborg system. It is the first step in a marathon of progressive growth for Skyborg technology," says Brigadier General Dale White, program executive officer for fighters and advanced aircraft. "These initial flights kick off the experimentation campaign that will continue to mature the [autonomy core system] and build trust in the system."
The USAF plans upcoming test events to demonstrate direct manned-unmanned teaming between manned aircraft and multiple Skyborg-controlled UAVs, it says.
The Skyborg programme intends to create software and hardware for autonomous control of low-cost loyal wingman UAVs that can fly and fight alongside manned fighters. The autonomy core system, developed by Leidos, is intended to be used to control a variety of UAVs.
Last December, Boeing, General Atomics Aeronautical Systems and Kratos Unmanned Aerial Systems were contracted by the USAF to integrate Skyborg into UAVs and conduct a series of flight experiments.
"Milestone 1" with Kratos's UTAP-22 appears to be the first step in that experimental campaign. The UTAP-22 is based on an aerial target Kratos manufacturers for the USAF, called the BQM-167A. It has an operational ceiling of 50,000ft and a top speed exceeding 600kt (1,110km/h). The UAV is rocket launched and recovered with a parachute.
Kratos also manufacturers the XQ-58A Valkyrie, an experimental stealthy combat UAV vehicle developed for the US Air Force Research Laboratory's Low-Cost Attritable Strike Demonstrator programme, an effort to build a combat aircraft that is "attritable" – cheap enough that it could be lost in battle and affordably replaced. The Valkyrie has been associated with the Skyborg programme as well.
Kratos chief executive Eric DeMarco said on a first-quarter earnings call on 5 May that the company anticipates delivering the first production example of the XQ-58A to an undisclosed customer, likely the USAF, within the "next couple of months". In bullish anticipation of a US government contract, Kratos started production in February 2020 of an initial batch of 12 examples of the UAV using its own money.
For its part, Boeing, in partnership with the Royal Australian Air Force, has developed the Airpower Teaming System, a stealthy attritable UAV that flew for the first time in February. Boeing has said that the UAV is the basis for its participation in the Skyborg programme.
General Atomics received a contract in January to modify two of its company-owned Avenger UAVs with the Skyborg system. That aircraft was originally designed as a jet-powered armed intelligence, surveillance and reconnaissance platform. However, the company has floated the possibility of turning the Avenger into an armed escort for large, slow-moving aircraft, such as in flight-refuelling tankers. It calls that concept the Defender, and has shown renderings of the UAV carrying air-to-air missiles.


Garrett Reim is a military aviation reporter based in Los Angeles. He reports on military aircraft manufacturers and operators in North and South America. Send him your confidential tips, press releases and story ideas via garrett.reim@flightglobal.com. Follow him on Twitter via @garrettreim.