The US Air Force's (USAF's) Skyborg automated system piloted a General Atomics Aeronautical Systems MQ-20 Avenger unmanned air vehicle (UAV) during a recent flight test, demonstrating that the technology can be adapted to different types of aircraft.
The Skyborg autonomy core system flew aboard the MQ-20 for 2.5h during the "Orange Flag 21-2 Large Force Test Event" at Edwards AFB in California on 24 June, the service said on 29 June.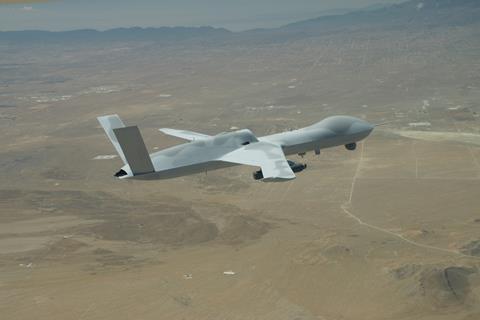 The flight happened about two months after the autonomous system was first demonstrated in flight using a Kratos UTAP-22 Mako UAV from Tyndall AFB, Florida in April.
"By integrating the [autonomy core system] on the MQ-20 less than two months after completing tests on the UTAP-22, the Skyborg team proved the [autonomy core system] modularity, portability and scalability by demonstrating the same capabilities on a completely different aircraft using the same software release," says the USAF.
During the recent MQ-20 test, a remote pilot initiated steady, level flight before handing off control of the UAV to the Skyborg system.
"The [autonomy core system] accomplished basic aviation behaviours and responded to navigational commands, while reacting to geo-fences, adhering to aircraft flight envelopes and demonstrating coordinated manoeuvring," says the USAF. "It was monitored from a ground command and control station."
Skyborg is an open, modular system that enables UAVs to autonomously fly, navigate and communicate. The USAF plans to also "eventually integrate other advanced capabilities" into the system. Leidos is the lead developer of Skyborg hardware and software.
The military sees Skyborg as the brains behind future "attritable" UAVs – a new class of inexpensive unmanned aircraft that can be replaced at minimal cost if lost to combat attrition. For the USAF, that means a price between $2 million and $20 million per aircraft.
The USAF envisions deploying attritable UAVs on missions involving loyal wingman assets – meaning to support manned aircraft – intelligence, surveillance and reconnaissance, tanker protection and air-to-ground strikes. The low-cost nature of the aircraft may enable the service to field legions of such UAVs, perhaps as part of autonomous swarms.
To control vast fleets, the service believes a general-purpose flight and mission control system is needed. Such a system would make it easier for diverse types of UAVs to communicate and collaborate. It would also make it easier to quickly update aircraft operating software with new capabilities or in response to new threats from adversaries.
In addition to General Atomics and Kratos, Boeing was contracted by the USAF last December to build and fly a Skyborg prototype. The company, in partnership with the Royal Australian Air Force, has developed the Airpower Teaming System, which first flew in March but has yet to demonstrate integration with Skyborg.