As older Lockheed Martin F-16s approach the end of their service life in five to eight years, the US Air Force (USAF) may consider replacing the manned fighters with attritable unmanned air vehicles (UAV).
The service wants to rethink the way it does aerial combat using new technology, including attritable UAVs, says General James Michael Holmes, head of Air Combat Command, on 27 February at the Air Force Association Air Warfare Symposium in Orlando, Florida.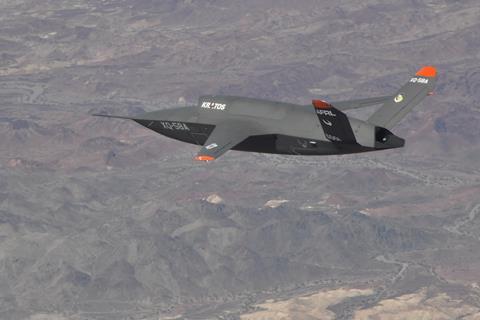 "I hope that 30 years from now I'm not still trying to maintain 55 fighter squadrons," he says. "I think we'll advance and there'll be some other things that will be cutting in [the fleet]".
Instead of laying out a traditional acquisition plan centered around buying manned combat aircraft, Holmes says he wants the service to think more conceptually.
"As we go forward in the future, what I would rather build is a capabilities roadmap that shows how we're going to accomplish the missions for the Air Force that we traditionally have done with fighters."
The first opportunity to add attritable aircraft to the USAF inventory could come with the retirement of F-16 Block 25 and Block 30 aircraft in the mid-2020s.
"Sometime in the next five, six, seven or eight years, depending on budgets and capability, we'll have to decide what we're going to do about those airplanes," Holmes says. "And so, there's an opportunity there if we want to cut in something new – low-cost attritable loyal wingman, the different things that we're looking at and experimenting with."
After those fighters, the F-16 Block 40 and Block 50, which have substantial airframe life remaining, but need modernisation upgrades, could be on the chopping block, he says.
Holmes's inspiration largely comes from the challenges of operating across the Pacific Ocean. He has held recent discussions with Will Roper, assistant secretary of the USAF for acquisition, technology and logistics, about developing future combat aircraft that can address these challenges.
"The idea of what is a fighter, the equation and kind of the math that we use to for a fighter still works pretty well in the European environment. The range and payload and distance problem is still a pretty effective solution," he says. "It's not as effective as solution in the Pacific because of the great distances."
The Lockheed Martin F-35A Lightning II stealth fighter has been criticised for having a limited combat range of 600nm (1110km), insufficient to avoid a surprise hit by China's long-range ballistic and cruise missiles while parked at an air base in the western Pacific Ocean.
In part to solve that limitation, the Air Force Research Laboratory and Kratos Defense Security Solutions have been developing the XQ-58A Valkyrie, a low-cost UAV with a 1,500nm combat radius. The attritable aircraft could be flown independently or as a loyal wingman alongside manned aircraft.
The range problem is also influencing the USAF's thinking on its next-generation fighter development programme, called Next Generation Air Dominance (NGAD), says Holmes.
"So as you look at NGAD, and you look at the follow-on programmes, I wouldn't expect it to produce things that necessarily look like a traditional fighter, in that same kind of swap between range and payload and distance that we've done in a traditional fighter," he says. "And, I think that's what Dr. Roper is talking about. Both: How about the unmanned, low cost of tradable options? And, how might they do those same missions?"
Ultimately, it might mean the USA's next fighter aircraft is unmanned.
"What we're concerned about at Air Combat Command is not necessarily whether it'll be a manned fighter, but how are we going to provide the capabilities that the joint force depends on us to do?"