The US Air Force has formally launched its search for an unmanned air vehicle (UAV) to replace the General Atomics Aeronautical Systems MQ-9 Reaper beginning in 2030.
The service is conducting market research to find its next medium-altitude UAV for intelligence, surveillance and reconnaissance (ISR), as well as air-to-ground strike missions, the Air Force Materiel Command says, in a 3 June request for information (RFI).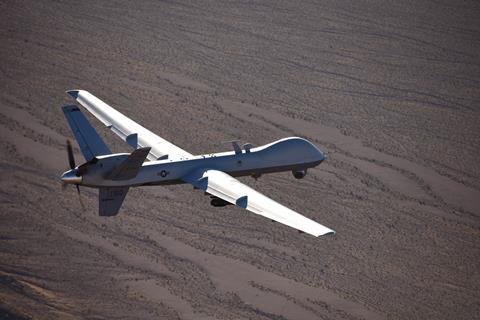 The MQ-9 was given initial operating capability in 2007 and has been used extensively against insurgents and terrorists in the Middle East. Its flight endurance of 27h allows the UAV to loiter above battlefields for long durations. That has made it a favoured air-to-ground strike aircraft against combatants who often blend into the surrounding populace and must be picked off at fleeting moments, so as to avoid hurting or killing nearby civilians.
However, the UAV is vulnerable to surface-to-air missiles. As the USA pivots towards Great Power rivalries against China and Russia – countries with sophisticated and long reaching anti-aircraft missile batteries – the MQ-9's potential is limited, according to the USAF.
The service wants a UAV that embodies what it gets from the MQ-9, but with capabilities to operate in a new era of more advanced threats.
"The hunter-killer mission set provides a unique capability of combined ISR and strike attributes in a single platform fulfilling the highest demand of all air force assets through vast capacity," says the notice. "With the MQ-9 platform planning for end of service life, a need to identify a solution that continues to provide for this demand is imperative. The purpose of this RFI is to research potential solutions for the Next Generation UAS ISR/Strike platform, the Next Generation Medium Altitude UAS and potential follow-on programme to the MQ-9 weapon system."
It is not clear if those different aircraft types listed means the USAF is looking to replace the MQ-9 with three separate vehicles. The air force did not immediately respond to a request for comment.
The service also wants ideas for "alternative ways to support future lower-end, lower-cost ISR missions, which may include initiatives to modernise, augment, and/or replace existing systems", it says.
The USAF plans for the UAV to have an initial operational capability by the third quarter of fiscal year 2031. To make that goal, initial deliveries are planned to start in the fourth quarter of FY2030.
The next-generation UAV is expected to integrate certain advanced technologies including autonomy, artificial intelligence, machine learning, digital engineering, open mission systems architecture and attritable technology, the USAF says.
The service says it has not yet decided on the structure of the upcoming acquisition competition. However, it wants to have multiple competitions around "the air vehicle, automated ISR sensors and data exploitation, and ground control stations, systems, [and] suites, all adhering to open architecture principles with an emphasis on welcoming innovative solutions form small businesses".
The potential programme would have three focus areas: future medium-altitude UAV ISR and strike solutions, innovative development business practices, and digital engineering initiatives.
The USAF wants to know about aircraft currently being developed or already developed that can adopt its advanced technology priorities. "Solutions from the commercial marketplace that are scalable to a military platform are highly encouraged," it says. "Due to the current fiscal constraint environment, interested parties are highly encouraged to propose solutions of reduced life-cycle cost."
The service also wants information about opinions on "best approach to integrate advanced technologies into a single platform through the implementation of modular open systems architecture principles".
And, it appears the USAF's next-generation ISR and strike UAV could leverage the Air Force Research Laboratory's forthcoming Skyborg effort. That is a separate development competition which launched in May 2020 to create an artificially intelligent software for aircraft flight and mission control.
"Interested parties are encouraged to consider and assume the Air Force Research Laboratory Skyborg programme as the primary [UAV] autonomous baseline solution," says the USAF.
The service did not immediately respond to a request for comment about the role of the Skyborg artificially intelligent software in its next-generation ISR and strike UAV.
In relation to the digital engineering initiatives focus area, the service wants to know how digital engineering could reduce early development risks. "Testing and experimentation of virtual prototypes in a multi-physics digital ecosystem are of primary interest," it says.