The US Air Force (USAF) has deployed its first automated unmanned air vehicle (UAV) security system for an air base.
The service on 11 December deployed at Travis AFB in California a quadcopter-based system made by Easy Aerial, it said on 14 December.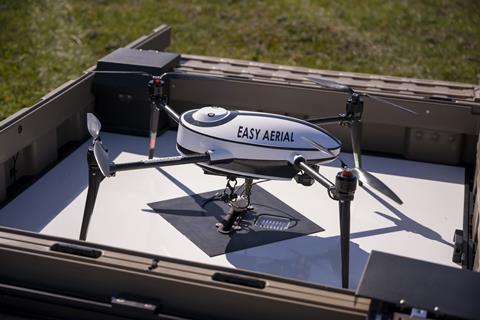 Novel solutions for air base perimeter security and defence is of interest to the USAF as its Agile Combat Employment strategy aims to spread aircraft among many permanent and temporary bases, putting a strain on a limited number of USAF Security Forces, also known as "Defenders". The service has acknowledged that to successfully implement the strategy it will need more Defenders and perhaps new surveillance technologies.
For perimeter security at Travis AFB, Easy Aerial developed a custom version of its quadcopter-in-a-box. The product's rugged transportation case also serves as a landing and launch pad, as well as a recharging station. The Smart Air Force Monitoring System was developed as part of a Small Business Innovation Research Phase II programme contract over a two-year period.
"Upon receiving a security trigger such as a fence alarm, fire alarm or other distress call, the Smart Air Force Monitoring System can be programmed to automatically deploy from its base station and autonomously navigate to the triggered site to provide complete, unparalleled situational awareness," says the USAF. "After mission completion, the small unarmed aircraft autonomously returns to its base station, where it recharges and waits for its next mission."
The UAV has 45min flight time and a gimbal-mounted forward-looking infrared camera. The USAF has also ordered a tethered version of the drone.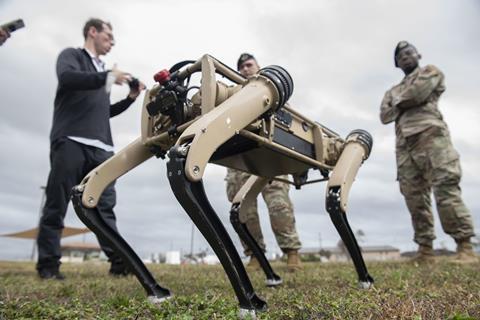 The introduction of an autonomous quadcopter to guard an air base comes after USAF Security Forces started in November semi-autonomous robot dogs on patrols of Tyndall AFB in Florida. The four-legged robots, made by Ghost Robotics, are not supposed to replace military dogs, but to free up security personnel from having to do some foot patrols around the air base.