The US Air Force (USAF) is looking for air-to-air combat technologies for its family of next-generation unmanned air vehicles (UAVs).
Some of the service's initial focus areas are air domain awareness technologies, including airborne moving target indication sensors and equipment for high-value airborne asset protection, it says in a request for information posted online on 8 March. The USAF says it wants technologies developed with a "heavy focus on digital engineering, open-missions systems, machine learning, artificial intelligence, on-board edge processing, and autonomy."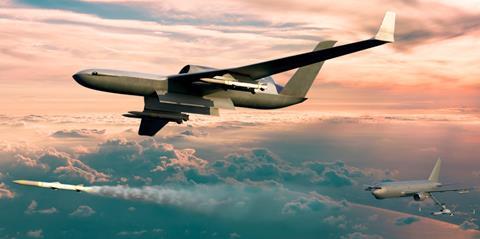 The development effort is intended to build a pipeline of technologies for the Next-Generation Multi-Role Unmanned Aerial System Family of Systems, a project also called "MQ-Next" that is to replace the General Atomics Aeronautical Systems MQ-9 Reaper. That UAV is currently used for intelligence, surveillance and reconnaissance, and strike missions against terrorists and insurgents, but is vulnerable to being shot down by the more capable Chinese and Russian militaries.
In the focus area of air domain awareness, the service wants "sensors or sensor networks that provide early warning and fire control quality track and identification of enemy air operations in highly contested and contested environments," it says.
Low-cost platform agnostic sensors, such as radar, infrared and electronic support measures, are of interest. It also wants "resilient" communications technologies that integrate with the Department of Defense's Joint All-Domain Command and Control initiative as well as other battle management, command and control technologies.
The service also wants the ability to "sustain defensive counter-air capabilities to protect high-value airborne assets from long-range enemy fighters and other kinetic and non-kinetic threats," it says. The USAF does not spell out what high-value airborne assets are, but typically that means vulnerable, yet important jets such as tanker, command-and-control and early warning aircraft. For its part, General Atomics proposed in 2020 a variant of its jet-powered Avenger UAV, called Defender, that could be armed with air-to-air missiles and made into a tanker escort.
The USAF is looking for technologies that are platform agnostic and could include sensors, electronic warfare systems, directed energy weapons and other capabilities. The defensive capabilities ought to also enable the UAV to protect itself from adversaries.
As part of its plan to replace the MQ-9 not with just one aircraft, but a family of UAVs, the USAF wants potential responders to its request for information to describe how their technology might fit within the attritable, expendable, survivable and reusable concepts of the MQ-Next programme.