The US Air Force (USAF) has started upgrades to part of its General Atomics Aeronautical Systems MQ-9 Reaper fleet to keep the unmanned air vehicles (UAVs) effective against near-peer adversaries, such as China and Russia.
The intelligence, surveillance and reconnaissance (ISR) aircraft was originally used for operations against terrorists and insurgents, but has since shown to be vulnerable to surface-to-air missile batteries fielded by more sophisticated foes. Its payloads also tend to be focused on countering terrorists and insurgents; capabilities that are less relevant against modern militaries.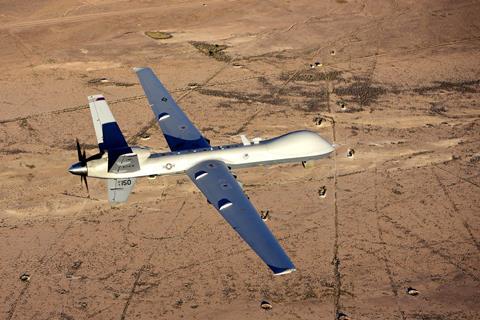 In response, the USAF is retooling the UAV.
"The air force will award the first delivery order of planned MQ-9 Multi-Domain Operation (M2DO) aircraft – which will include several new upgrades from previous production builds – to General Atomics Aeronautical Systems in April 2021," the service said on 21 April. "The air force is also retrofitting a portion of the already fielded MQ-9 fleet to the same M2DO configuration, allowing the air force to leverage current fleet numbers to meet future warfighter requirements through the service life of the aircraft."
The MQ-9 programme office is wrapping up initial fleet upgrades to diminish the threat of command and control jamming, the USAF says.
"This is the first retrofit of many, as MQ-9 M2DO-configured aircraft will receive additional closely-held capabilities that will enable command and control mission assurance and resiliency while the aircraft is airborne," the service says.
The programme is also increasing the MQ-9's onboard electrical power by an unspecified amount and is developing a new open architecture for the UAV. The USAF says these upgrades will allow the type to quickly integrate new payloads in response to emerging threats.
The service says it also plans to upgrade the MQ-9's electro-optical/infrared camera and expand the types of weapons it can carry.
Recently, General Atomics demonstrated the MQ-9 carrying a countermeasures pod, intended to help protect the UAV from surface-to-air missile attacks. The USAF has also experimented with the idea of using the UAV for tracking ballistic missile launches and shooting down incoming cruise missiles.
And, the service is looking at ways to use the MQ-9 for long-endurance surveillance of Russia and China. The USAF has pointed to the UAV's February deployment to Romania, where the aircraft flew sorties not far from the Russian border.
The USAF believes that these upgrades will keep the MQ-9 relevant to the end of its projected service life in 2035. By then, the service aims to have a stealthier replacement UAV, designed specifically to counter threats from Russia and China. That aircraft has been dubbed MQ-Next and is in the early stages of development.