The US Army is looking for prototypes and ideas for loitering munitions swarms that can work together with little or no control from a human operator.
The service wants an "offensive unmanned aircraft systems swarm" that can operate in a decentralised manner, it says in a request for information posted on 14 June.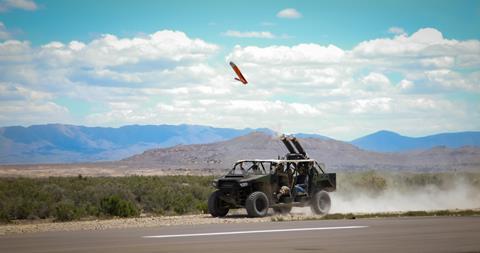 The unmanned air vehicles (UAVs) are to be Group 3 in size or larger. Group 3 UAVs are classified as weighing between 25.4kg (56lb) and 599kg, according to the US Army.
The UAVs are to be "kinetic", meaning explosive, and are to be effective against a variety of undisclosed targets. The service wants the weapons to have a range of 5.4nm (10km) to 16.2nm.
The loitering munitions "shall be deployable via a truck – Joint Light tactical Vehicle (JLTV) or High Mobility Multi-Purpose Wheeled Vehicle (HMMWV) – or trailer mounted configuration", the US Army says.
The HMMWV, known better as the Humvee, is the service's most-used troop transport vehicle. It is currently being replaced by the heavier armoured JLTV, although tens of thousands of examples of the Humvee will be kept in the inventory for years to come.
The US Army has been experimenting with launching loitering munitions from vehicles. For example, in May, as part of the Experimentation Demonstration Gateway Event 21 (Edge 21) at Dugway Proving Ground in Utah, the service demonstrated launching an Area-I Altius 600 UAV from a tube in the back of a moving Polaris Dagor, a sort of military dunebuggy. However, thus far, the Altius 600 has been mostly used as an air-launched effect, a multi-purpose drone that is launched from a fixed-wing or rotary aircraft.
The Altius 600 is a group 2 UAV, weighing between 9.1kg to 12.2kg. It has a 238nm range and more than 4h flight endurance. It can be launched from aircraft, ground vehicles and ships.
The service is testing out ways to integrate small UAVs into a battlefield network, so that targets spotted and automatically identified by drones can be then quickly attacked by other weapons, for example, artillery or helicopter gunships. Air-launched effects are also seen as possible carriers of explosives, which would turn the reconnaissance UAVs into loitering munitions that could rapidly attack targets.