The US Navy (USN) has awarded Skydweller Aero a $5 million contract to demonstrate its solar-powered, long-endurance unmanned air vehicle (UAV).
The company declines to comment on the demonstration's objectives, but said on 4 August that it is working with the service to develop key performance parameters.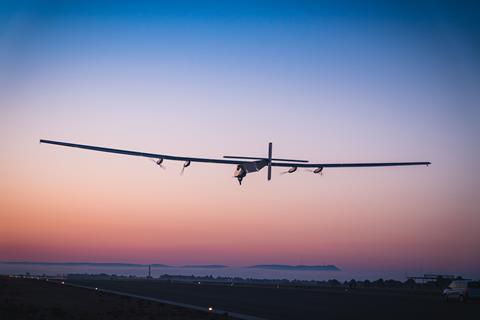 A site has yet to be selected for the effort, which is planned to take place between the fourth quarter of 2021 and the second quarter of 2022.
Skydweller is a US-Spanish start-up that uses technology developed for the experimental Solar Impluse 2, a manned solar-powered aircraft that circumnavigated the Earth over the course of 2015-2016. The company acquired the right to use the technology in 2019.
The Skydweller UAV, which does not yet have a formal name, first flew in December 2020. "Since, we have had multiple flight tests with incremental advancements towards autonomous flight," says the company.
Skydweller says its aircraft could fly for 30-90 days, depending on its mission's latitude, which determines the intensity of sunlight and the amount of power that can be generated by its solar panel-lined wings.
The aircraft is designed to operate at altitudes between 30,000-45,000ft. Its maximum payload will be up to 363kg (800lb). The aircraft has a 72m (236ft) wingspan and weighs 2,495kg.
The company says the aircraft could be used for a variety of missions including intelligence, surveillance and reconnaissance (ISR), communications relay, natural disaster support and environmental monitoring and geospatial mapping.
The US military service branches have been looking into using long-endurance UAVs for ISR missions, as this could allow commanders to keep an eye on a region for much longer than existing aircraft, such as the General Atomics Aeronautical Systems MQ-9A Reaper, which has a flight endurance of 27h. Long-endurance UAVs could also have advantages over spy satellites, which can struggle to see through clouds and have predictable orbits.