The US Navy (USN) is thinking about creating a programme of record to buy small cargo drones for ship-to-ship resupply missions.
The potential move comes after the service conducted recent experiments with a fixed-wing unmanned air vehicle (UAV), that has four electric-powered rotors for vertical take-off and landing (VTOL), made by start-up Skyways, Tony Schmidt, director of rapid prototyping, experimentation and demonstration for the Naval Air Warfare Center Aircraft Division, said on 4 August. The service dubbed the drone the Blue Water Maritime Logistics unmanned air system.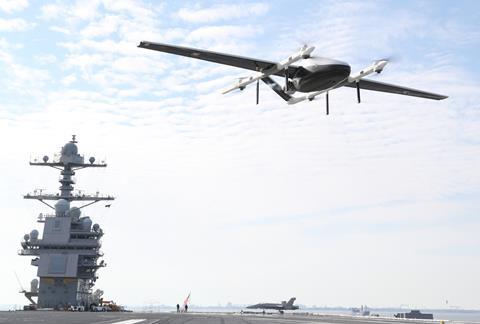 In February, the USN conducted a proof-of-concept test with the Skyways UAV, moving light-weight logistical equipment from a maintenance centre at NAS Norfolk in Virginia to the USS Gerald R Ford, while the nuclear-powered aircraft carrier was anchored in-port. In July, the service followed up with a ship-to-ship demonstration, moving cargo from the guided missile destroyer USS Bainbridge to fleet replenishment oiler USNS Joshua Humphrey.
Typically, cargo and fuel are transferred between navy ships using wires or hoses. Helicopters, such as the Sikorsky MH-60S, are also used to hoist cargo between ships. Both resupply missions can be expensive, dangerous and time consuming.
The USN has been testing the idea that smaller UAVs can handle some of the piecemeal work. In particular, the Material Sealift Command wanted to find a way to get rid of some helicopter resupply missions, says Schmidt.
"If you look at how many parts are transported, about 80% of the parts transported for logistics in the fleet are less than 10lb [4.5kg]. It's a pretty astonishing number," he says. The service has previously said 90% of logistical deliveries, such as electronics parts, weigh less than 22.7kg.
The USN is planning more experiments with a different UAV and longer-range flights. It did not say how far the Skyways drone flew in its demonstration flights, though the company says its largest hybrid-electric aircraft has a 304nm (563km) range and a 11.3kg payload capacity.
In addition to the Skyways drone, the USN has looked at other UAVs for cargo resupply. Start-up Volansi says it demonstrated two of its VTOL drones carrying cargo between a naval ship and US Coast Guard Cutter William Trump in July. The company's hybrid-electric aircraft has a 304nm range and a 9.1kg payload capacity.
Last October, the USN tested delivering cargo using a large quadcopter to the Ohio-class ballistic missile submarine USS Henry M Jackson near the Hawaiian Islands. That demonstration was designed to test and evaluate the tactics, techniques and procedures for expeditionary logistics, the service said. The delivery appeared to be a short hop from a ship within visual range. The USN did not disclose the weight of the payload.
The UAV used for the submarine resupply mission was made by Skyfront and appeared to be a hybrid-electric quadcopter called the Perimeter 4. That UAV can carry a 2.5kg payload over 61nm, according to its manufacturer.


Garrett Reim is a military aviation reporter based in Los Angeles. He reports on military aircraft manufacturers and operators in North and South America. Send him your confidential tips, press releases and story ideas via garrett.reim@flightglobal.com. Follow him on Twitter via @garrettreim.